East Palestine Derailment
Published on February 23, 2023
---
The derailment on February 3rd, in East Palestine, OH is about 60 miles south and a bit west of us. Although it is still too early to tell what kind of impact this disaster will have on humans, animals, and the environment as a whole around East Palestine and surrounding areas, we are making every effort to be extremely cautious with sourcing as we proceed in the days ahead.
Processing Lot 03/07/2023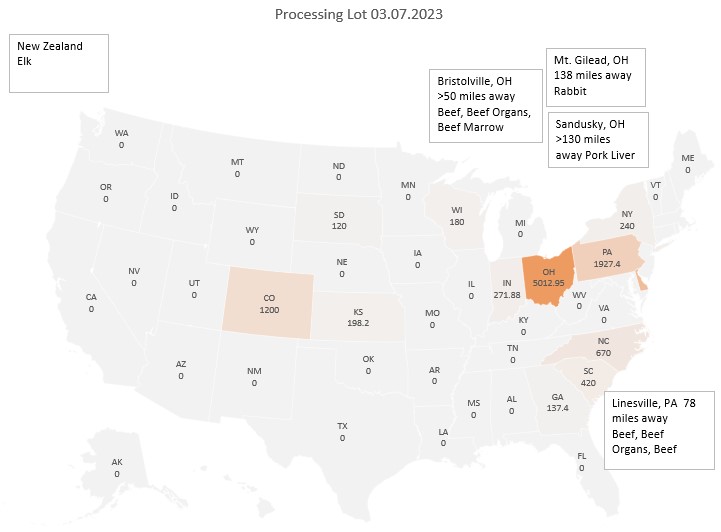 02/28/2023
On Friday, February 24, 2023 I emailed Mr. Michael Regan, who is the current EPA administrator. I reached out to the EPA with two (2) main objectives in mind:
First, I was hoping to collect and analyze detailed information on current testing locations and corresponding findings.
Also, I wanted to inquire if it would be possible to conduct testing in our surrounding area.

I read that the PA Department of Environmental Protection was testing a two-miles radius and that residents outside of that areas could potentially be included.
To date, I have not received a response back from the EPA.
Rest assured that I continued to monitor social media, news reports, work closely with local farmers, and have my eyes and ears on every aspect I can regarding the health and wellness of animals sourced of our products. Please know that we have not seen, experienced or heard of any health concerns at this time from our sourcing parnters.
As an additional layer of transparency, below is a map which represents our current Processing Lot (02.28.2023) for this week's processing. The map illustrates location of sourcing and corresponding weight of processing. For Pennsylvania and Ohio locations, I also listed the city, state, distance from East Palestine, OH and the raw material sourced from that location.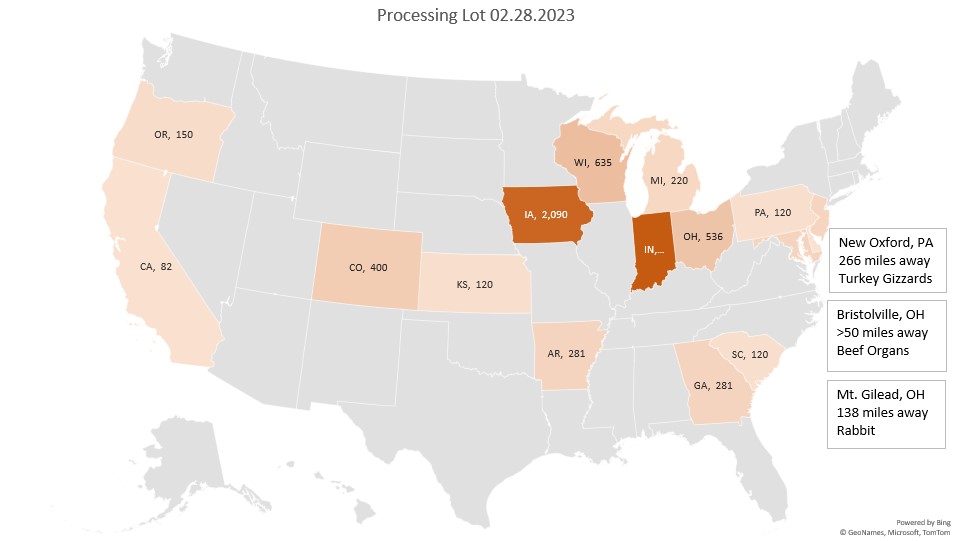 As always, if you should have any questions, please let me know.
Ashlee, owner of Hare Today
aluke@hare-today.com
02/23/2023
Today is Thursday, February 23, 2023, and I can assure you that all current inventory is free and clear of any containment from this derailment as I have 100% confidence that slaughter dates of livestock were prior to this devastating disaster and/or source location is greater than 50** miles away from the epicenter.
Going forward, I will be monitoring slaughter dates and location of sourced animals very closely. It is always my goal to be clear and transparent and will update this blog with crucial details on product sourcing so that you have complete confidence in our products.
Also, I am working with local breeders and found an information article that "Reverse osmosis, distillation, and at least mostly, granular activated carbon charcoal filters will remove vinyl chloride from water."
Additional Details on geographical area:
We are located in Springboro, PA (zip code: 16435) which is indicated on the map below. Looking at a topographic map, we are located in an elevated area, especially in comparison with East Palestine, Ohio. This understanding is important when looking at water sources and natural flow of ground water, which our water flows north to south or west predominantly.
The following links explain how water is stored in the ground and also illustrates drainage basins and watersheds.
Groundwater Storage and the Water Cycle | U.S. Geological Survey (usgs.gov)
SURFACE WATER PowerPoint Presentation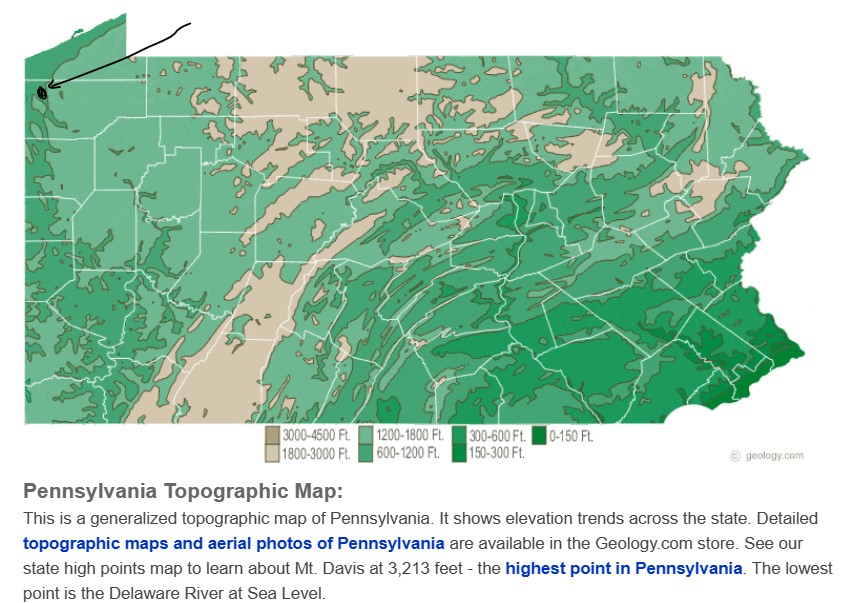 Pa. Senate committee holds hearing on East Palestine derailment | 90.5 WESA
---