Rewards Program
How points work:
You will earn 1 point for every dollar you spend. Reward points are calculated after coupon codes and past reward points are redeemed.
Gift cards also receive reward points.
There are also other ways to earn bonus points:
Write product reviews for products purchased from us - 50 points per review
Upload a picture of your pet for our slide show, preferably eating Hare Today's food - 50 points. [Go to "my account" and click on the upload image button.]
Refer friends and family - 50 points [Go to "my account" and click on the referral button]
Follow us on Instagram - 20 points [Please email me at info@hare-today.com (link sends e-mail) as I have to add the points in manually]
Write a testimonial on how raw feeding has improved your pet's quality of life - 100 points. [Go to "my account and click on the testimonial button]
Put a link on your website - 100 points [Email me with your website link, these points will be added manually info@hare-today.com. You can paste the affiliate code from "my account" and click on the referral and affiliate button and when new customers registers an account and places an order you will also receive 50 reward points.
Sign up for our Newsletter- 50 points.
ADDITIONAL REWARDS and adding pH to your Pet Profile.
My goal is to support health, wellness, and work together with our customers to collect pH data on raw fed animals, and also kibble fed animals with the perceptive of testing over time with the introduction of a species appropriate diet. This science-based information could help support the raw industry as a whole!
How to earn ADDITIONAL RWARDS: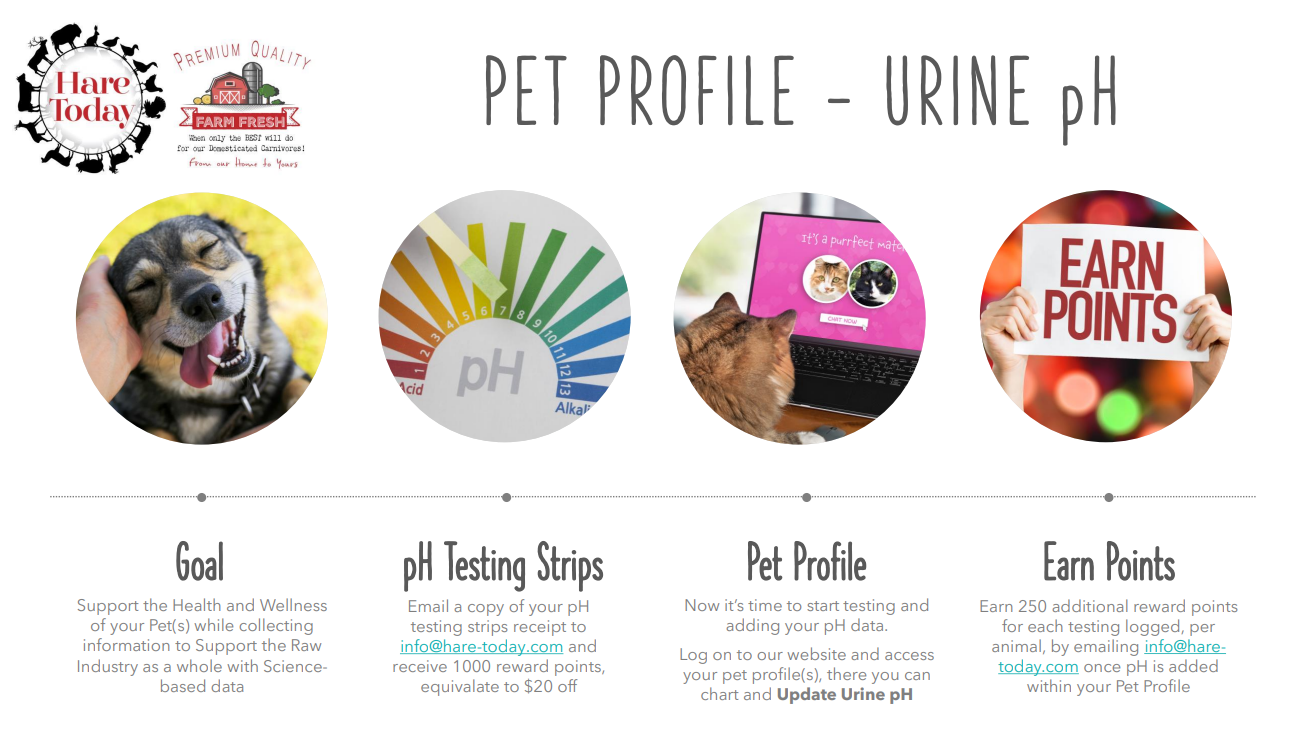 We reached out to a partner and friend, who also is a knowledgeable vet, and she recommended the following home testing kit here.
Redeem your points for great items for your pet!
Points can be redeemed in 100 point increments, with each 100 points being worth $2.00 off your purchase.
You can see your points by going to "my account" when you are logged in.
You will have the option at check out to redeem points on the review order page.