Happy Customer Testimonials
Below are testimonials sent in to us from our satisfied customers. Please submit your testimonial with a picture of your best friend(s) and we'll place it up here.
You will earn a one-time reward of 100 points that will be added to your account when the picture/testimonial is placed on the website.
Once you are logged in please go to your account page to submit a testimonial.
Quality you can trust
By Doris on June 22, 2017
When we received our first Hare Today order, even my husband (who does not ever handle raw cat food) commented that the meat looked "really good." The meats are of a noticeably higher quality than anything you could find at a grocery store, AND you can rest assured that the meats are hormone-free, antibiotic-free, and preservative-free.

We previously fed commercial raw foods, which the cats would sometimes refuse. Our three cats had no reservations about the meats we ordered from Hare Today! Hare Today's whole-carcass ground rabbit is a favorite in our household, and we will continue to order it so long as it is available.

Our first order from Hare Today was a meager 12 pounds, but we are ordering 55 pounds this time to minimize shipping costs!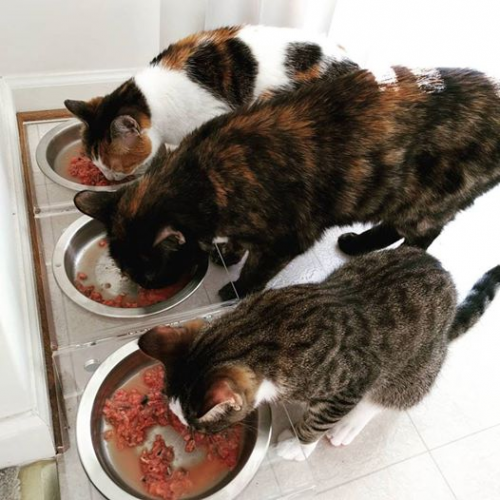 Simply the best food you can feed your furry friends!
By Sarah on June 22, 2017
I discovered Hare Today Gone Tomorrow quite by accident on a Facebook group page - and boy, am I glad I did!!

I have always known that feeding a raw, species appropriate diet is best but sourcing that diet proved difficult for me until I learned of Tracy's farm. I had been feeding a commercially prepared raw food (and done quite a bit of leg work researching different brands) but my dogs were not thriving the way I had hoped while feeding a raw diet.

I emailed Tracy, asking her more than a few questions I had about feeding her food and some of the issues my dogs were experiencing while eating commercially prepared raw. She was very responsive and helpful; she told me that she knew of many other dogs who experienced the same problems while eating commercially prepared raw, mostly due to the added vegetables and unnecessary fillers they use.

Fast forward to today, and my dogs are finally thriving on raw food!! Hare Today Gone Tomorrow's food is always fresh, always on time, always frozen solid and I couldn't be happier!

My little dog who struggled to keep weight on is steadily maintaining her weight and my lab who suffered from allergies of all sorts, is pretty much allergy free!!

I am thankful for all of Tracy's hard work and I appreciate her dedication to helping people give their animals a more natural lifestyle.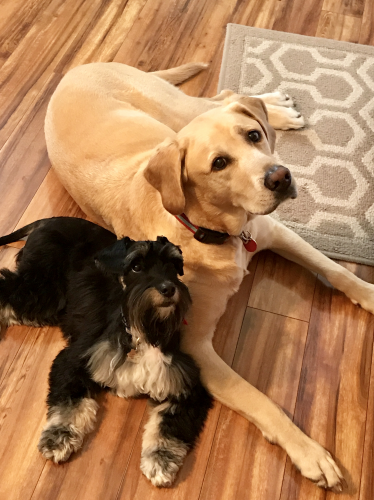 I'll never go back to kibble again!
By Tara on June 21, 2017
I'm a Veterinary Technician and have always had dogs in my life. I fed the highest quality most expensive brand nibbles but always has issues with yeasty ears. I tried too many brands to list and they were all very similar in my opinion.

One day my Boston terrier began experiencing serious TMJ issues and the vets couldn't do anything but offer pain killers. Eventually she could not even open her mouth to eat or drink and I had to literally shove food in her mouth and give her water with a syringe.

I did some research and started feeding her ground raw. Well within a few weeks she was back to her normal self and never had anymore pain. Even her yeasty ears were a problem of the past.
That was one of a few stories in which raw helped the dogs body to heal naturally. I highly recommend a raw diet for all carnivores!
Happy Kitties, Happy Mom!
By Barbara on June 17, 2017
Two months ago a young adult rescue cat came to live with me. After researching how & how much to feed, I found lots of great information on the internet about feeding cats and realized I've been doing it all wrong for many years.

All dry kibble was removed and replaced with good quality wet food. But there are still disturbing ingredients in commercial food so I looked into feeding raw.

I am so happy to have found Hare Today!! I first made a rabbit/turkey meal with the Alnutrin and Sardine/Anchovy oil from HT. There was no hesitation from Frankie. He cleaned the plate in record time and gets very excited at every mealtime. His coat has improved very quickly. It is soft & glossy, and his play activity has increased.

Yesterday a long anticipated kitten finally came home. Bodhi is a 12-week old Maine Coon cat and had his first raw meal this morning. There was no hesitation on his part either to clean the plate.

I'm very happy with the results from the Hare Today products and am looking forward to many happy, healthy years with my two guys thanks to Tracy & Hare Today!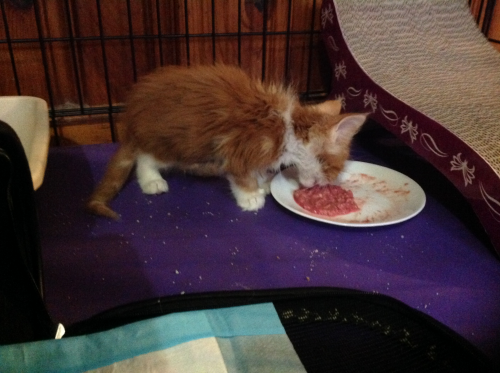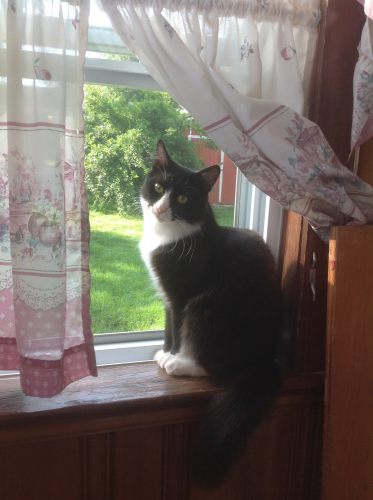 The Boston Life
By Joyce on June 7, 2017
I have 3 Bostons, Mack, 10, Daisy, 8 and Little Willie soon to be 10 months. I was told by a trusted breeder to order from Hare today and it is the best thing I have done for my babies.

The food comes frozen, no troubles, it is affordable when compared to meats bought elsewhere and I can even get it with bone and organs, BONUS- Not to mention my babies love it!
I used to spend way too much time shopping for and preparing their meals. Hare today has made my life so much easier and my babies very happy. We were just eating the beef blend, today I am being bold and ordering a variety of things. Thank You hare today!!
Delicate Daisy
By Tina on June 5, 2017
Chicken hearts and livers are Daisy's favorite! The quality of the products from Hare Today Gone Tomorrow are fantastic.
Daisy is a bit picky but she has enjoyed Hare Today products with no problems. Wonderful to have a supplier of good healthy food for our Daisy dog.
Best Meats
By Deborah on June 3, 2017
I have switched my 9 German Shepherds to the Raw Diet. After looking all over the internet I settled with Hare Today. They ship on time. The food is great! I would recommend this company to anyone looking for a good place to buy your dogs meat from! I am even recommending this company to all my puppy buyers!

Debbie Schultz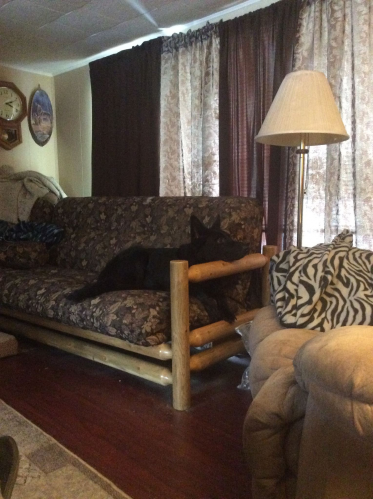 Quality Food
By Peter on May 31, 2017
My Husky Balto has been eating raw food since he was a pup and I am so happy to have find a good quality farm to buy raw food from. My Balto loves the food every time and I couldn't be happier with it.

Thank you
Love My Kitties!
By Carol on May 27, 2017
Hare-Today has been a life saver for my Kitties and for me. I love Tracy and very much appreciate the quality of all her products. I have been shopping with Hare-Today for many years and will continue for as long as I have my beloved kitties. They remain in exquisite health thanks to raw feeding. THANK YOU!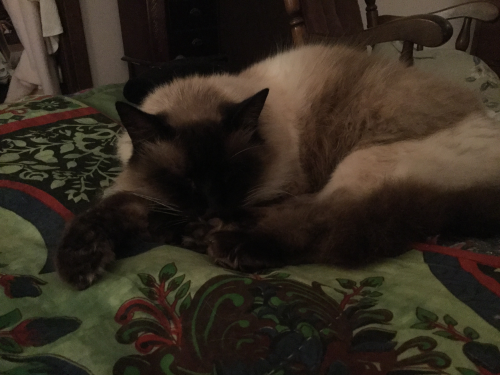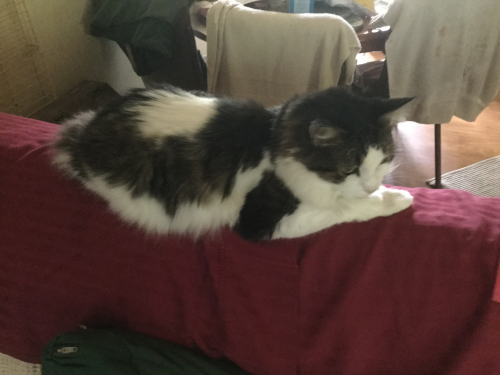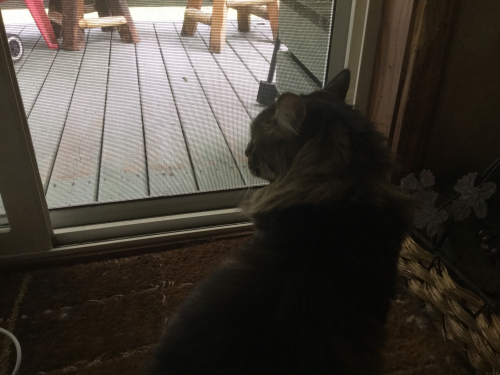 Cat vet who advocates raw feeding
By Andrea on May 26, 2017
I have been a feline only veterinarian for many years. The single most important thing that I have learned is that what we feed our cats is a huge determinant of their health. I advocate feeding balanced raw meat based diets for most of my patients, and Hare Today is a terrific resource for those folks who want to make their own food.

My cats have been eating a raw food based diet for more than 10 years and I have never had healthier cats. No vomiting, no diarrhea, soft and shiny fur, perfect body condition: what more can I ask for?

Hare Today makes my life easier with their ground whole rabbit, turkey and chicken as the base of the recipes I use.

Reliable service and reasonable prices are great too. Thanks Hare-Today!