Customer Testimonials
Below are testimonials sent in to us from our customers. Please submit your testimonial with a picture of your best friend(s) and we'll place it up here.
You will earn a one-time reward of 100 points that will be added to your account when the picture/testimonial is placed on the website.
Once you are logged in please go to your account page to submit a testimonial.
Bestest & freshest for cats!
By Diana on March 10, 2023
I adopted my Mabel about 3 months ago, and she'd always been a picky eater, which led me to look into nutrition and diet for cats. I found the raw food community and decided to try it out. Mabel immediately took to the food - she'd been a stray cat as a kitten, and she took to raw food immediately.

Fast forward 3 months later, and Mabel is an extremely happy and healthy cat. Her coat is ridiculously shiny, she has stable energy all day, and she's finally out of her shelter shell. Hare today has consistently provided the bestest and freshest meats. We switched to another raw food distributor because Hare Today was out of stock at the time, and Mabel barely touched her food. We ended up throwing away most of the raw food - which was noticeably less fresh, even to our human noses - and restocked as soon as Hare Today was restocked. Her appetite came back immediately.

I also love the variety of raw freeze dried treats Hare Today offers. We get a mix of rabbit ears with hair and organ meats and use that as a topper for her food to keep it interesting.

Hare Today has always delivered! Thank you - we are customers for the foreseeable future!
Testing it out.
By Jane on March 6, 2023
I have 8 cats and I really want them to have the best food possible. So I'm trying this for the first time to see if this is a good fit for them not just for the quality of the food but also the price.
Happy cat
By Kat on February 28, 2023
My cat I felt like was passing away and was having frequent seizures. I was unaware as cats get older they develop an intolerance with their pancreas to process kibble. I thought older cats were supposed to be lethargic and sleepy but he was just sick. Switching to an all meat diet has given him new life. He's my 16year old baby and he's playful and purring again with no seizures, which is crazy.
On
By Loyce on February 10, 2023
I have two chihuahuas. Since we got them a year ago, we have used the ground beef organ and bone chubs. This past month has been very challenging for my family. I lost track of time and got my babies food ordered late. Luckily the order was received and processed in time that my babies will have their normal food with no interruptions. What a joy it was to see the shipping information come to my email! Thank you for such wonderful customer service.
Excellent, reliable products and company
By Angela on February 7, 2023
Thank you so much! I just opened my most recent order and it really warms my heart to see the packing slip used to check off and doubly ensure that my package is going to be correct. The underlining, squiggles, heart-shaped circles, dashes, and initials indicate such dedication to making sure the orders are exactly right every time. I so so so appreciate knowing I can count on the crew at Hare Today to help me care for my old-lady cat babies in the best way possible.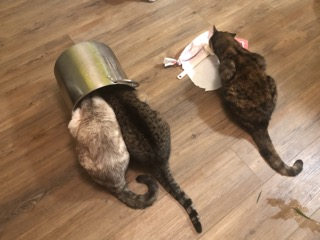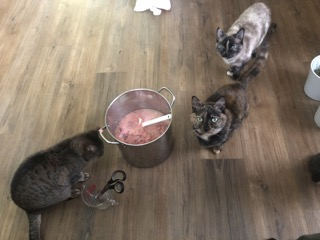 Fine ground chicken
By Christina on February 5, 2023
Bought the fine ground chicken with organs and bones for my bengal cat and he absolutely loves it. My other cat that I had who is 3 years old also likes it now too.
Alnutrin supplement
By Victor on February 2, 2023
It's not easy to find all the organs necessary to feed my cat.This supplement helps a lot and makes it so much easier.
Bacci & Dolce Priest
By Christina on January 31, 2023
My two rescue brothers as of June 2022 came to me after I lost my last of a sibling pair (my Benjamin Patrick at age 19) in 2022. I was devastated by this final loss of my clan. I was brought to a rescue website where a picture of my now Bacci (formerly Green Eggs) and his bonded brother now Dolce (formerly Ham):
wherever did someone come up with those crazy names, thus the renaming. My boys came in and rescued ME. I started them on HARE TODAY ground raw meats in August after getting them acclimated to their new environment. They took to the raw immediately. They enjoy the ground duck, turkey thighs, rabbitt, venison and probably would eat just about anything from HARE TODAY. I hope to continue a lifelong relationship with HARE TODAY and WILL for as long as my kitties eat the raw food which I suspect will be for their lifetime. Thank you Ashlee for all your support and for being here to provide such a valuable resource to our loving pets. I added a (picture of my Benjaminall black and Alivia gray tuxedo with Bacci and Dolce (my cow kitties with the crazy markings....lol)
Kindest Wishes & God Bless You Christina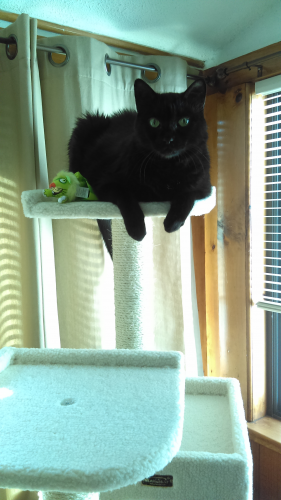 Well packaged and Highly palatable
By Delilah on January 19, 2023
My cats have been enjoying Hare Today since October 2022. I'm so pleased with the value in price combined with incredible quality. It's a breeze to prep with Alnutrin and my cats find it highly palatable. I had been in the market for a trustworthy non hpp food source that offers a rotation of novel proteins without fruits or veggies in the mix. I appreciate the ability to do chunks, course and fine grinds. It's so good for enrichment, teeth and use of facial muscles. After trying Hare Today with the kittos I don't see us looking back!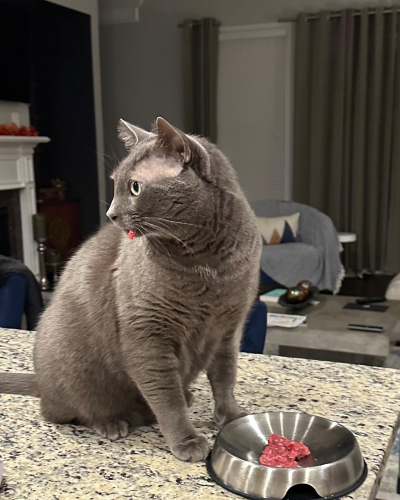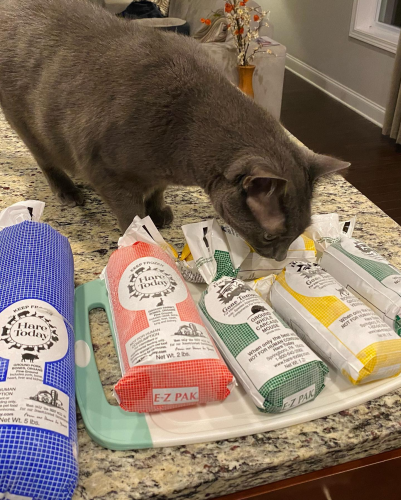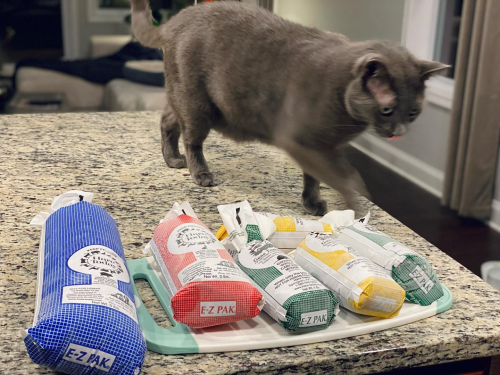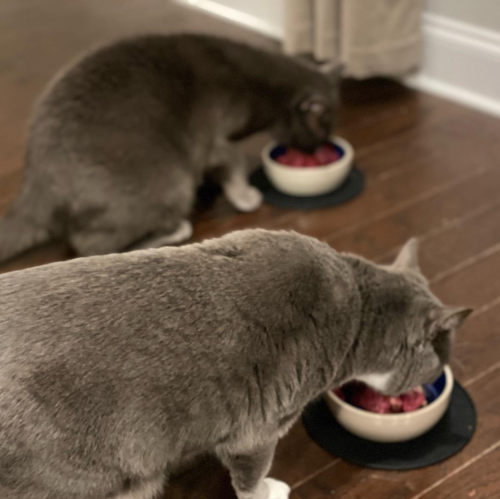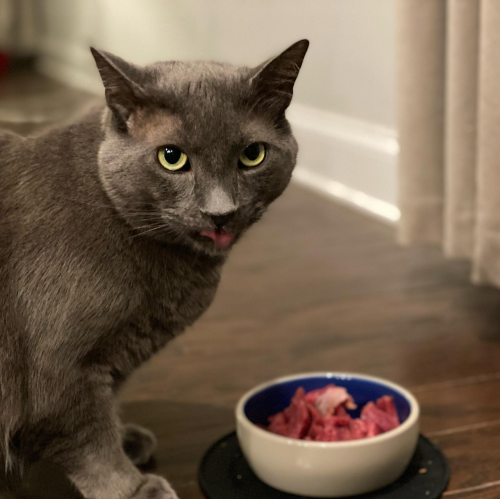 The ONLY way to feed our pets
By CJ on December 30, 2022
I've been feeding raw for almost 20 years and have bought from Hare Today for most of that time. I started researching the raw diet after dealing with my dogs' allergy issues, itchy yeasty skin, digestive problems and joint pain. Our trusted vet advised a multitude of medications…none of which worked. At the time I had 5 terriers with no answers in sight and I felt hopeless.
I began by grinding my own meats, adding veggies, eggs, sardines and liver, but I knew my nutritional balance was hit or miss for my pups. Still it was better than the desiccated crap they had been getting.
Thanks to Hare Today and their incredible nutritional information, I learned so much more and I continue to. The skin issues were resolved, the yeast became a non-issue and I know their lives were extended because of the diet.
Now, though my original 5 pups are all past, each and every one of our dogs has been healthy and long lived…each living at least until 16. Our Maltese lived to be 21!
I thank Hare Today, Ashlee and her mom (before her) for their patience, knowledge and guidance. Because of them, I know I'm doing the very best I can for these little critters.
(And did I mention how much I save on vet bills? Our costs are strictly for routine older dog check-ups.)
These quality products are the ONLY way to go!
Sincerely,
Cj Sherman