Happy Customer Testimonials
Below are testimonials sent in to us from our satisfied customers. Please submit your testimonial with a picture of your best friend(s) and we'll place it up here.
You will earn a one-time reward of 100 points that will be added to your account when the picture/testimonial is placed on the website.
Once you are logged in please go to your account page to submit a testimonial.
Happy Customer
By Nel on September 2, 2018
I love Hare Today Gone Tomorrow. I usually get their freeze dried food. I love that they have different kinds and every time I receive the freeze dried it comes super sealed, and it's just organized. My dogs absolutely loveeeee the treats. I'm not gonna lie the chicken thigh strips smelled amazing I was almost tempted to taste it. This place is great and the bonus point system is a plus too.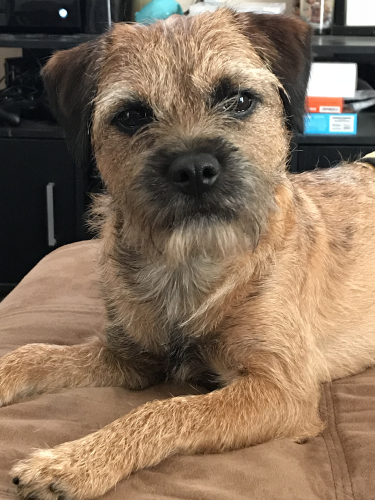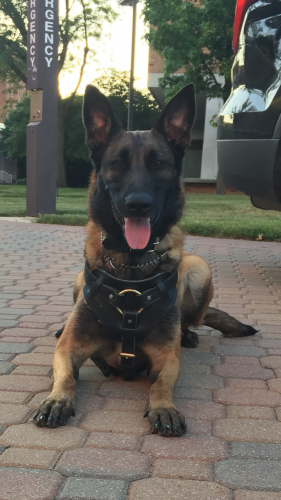 A natural way to feed
By anne on August 27, 2018
Over many years now I have fed a raw diet. The last several years my dogs have all been rescues.
Therefore its hard to know just what their circumstances were before they came to me. I transitioned each to raw right away.

They take to the new diet right away and they are all thriving. Some come very skinny or with coat problems but in no time they look the picture of health and energy lever to match the energizer bunny.
I can not imagine feeding any other way.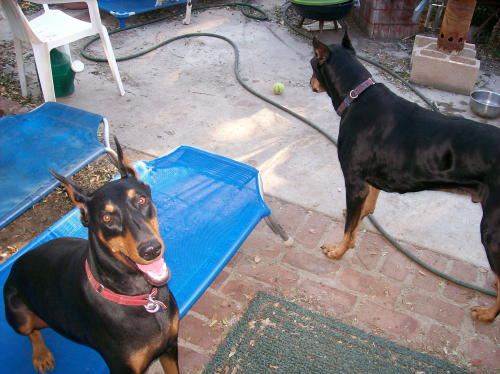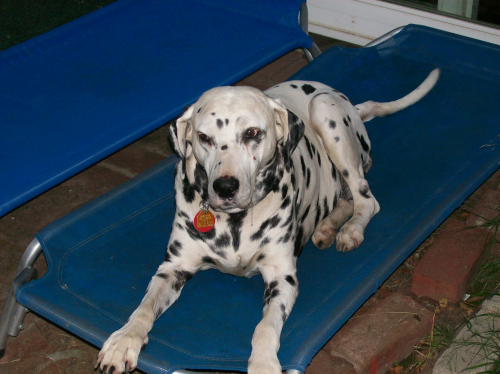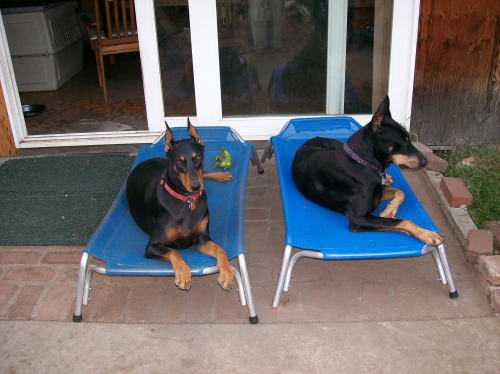 The only raw store I trust!
By Christy on August 19, 2018
I'm almost a year into raw feeding, and Hare Today has been an invaluable resource. Living in a rural area means that I have the bare minimum of "prey model raw" foods available at the local stores. Its definitely not enough to feed a balanced rotation of proteins. Quite frankly I couldn't feed 100% raw without Hare Today. The quality, diversity, and reliability of HT make it the clear choice compared to competitors. They've been in the game for a very long time, and that experience shows!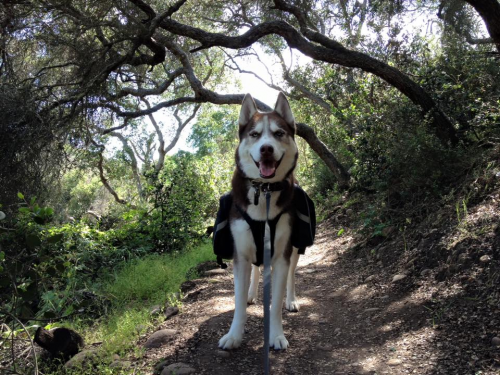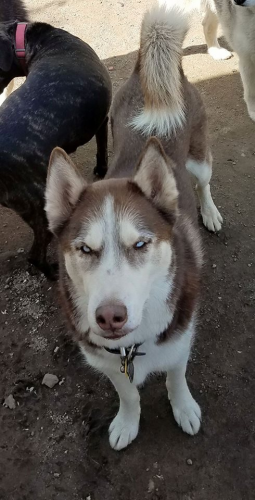 Wow!
By Trish on August 17, 2018
Quality products! My dogs LOVE the bunny feet and ears as well as the beef lung. When the box arrives, they all pester me to open it right away! :)
Hare Today Raw Food. Like a Porsche There is No Substitute.
By Rosemarie on July 30, 2018
We originally bought products from Hare Today Gone Tomorrow back in 2009, when a Maine Coon cat was dropped off in our backyard. We took her in and tried so hard to get her to like the raw. But, since she was about 3 to 4 years old and so used to eating commercial food, it was a losing battle to get her to eat it. So, we had to stop buying raw.
We now have a Maine Coon kitten that we named Queen Nefertiti, which means the beautiful one has come. We got her from a breeder who believes in feeding raw and uses Hare Today Gone Tomorrow products. Since she was eating raw from day one, it made it very easy for us to continue with the raw. We were so happy that we could again purchase raw food again because the commercial food is garbage, especially dry food, which is "Death in a Bag". We are very pleased with the products. The meat always comes frozen solid and customer service is fantastic. They always answer all your questions and are very knowledgeable about their products, helping you to decide what is best for you and your pet. There is a large selection of products, which helps ensure a variety of meats for our kitten along with nutrition. We also buy the Anutrin to add to the ground meat to give our kitten necessary vitamins, nutrients and taurine.
Our kitten loves the ground and the meat pieces. Giving her meat pieces along with the ground gives her something that she must shred with her teeth. Her fur is so soft and shiny. She has so much energy. She is all muscle. Not an ounce of fat on her body. Her pictures show proof of what we say about her. Let's not forget one of the most important factors for eating raw food, their stools. Their bodies use most of their food, so there is much less stool volume, almost cut in half. They also eliminate less often. They are odorless, dry, a little crumbly. All of the above because she is on a raw diet.
We must always remember that cats are obligate carnivores and they meet their nutritional needs by consuming other animals and have a higher protein requirement than many other mammals. They were not made to eat grains and vegetables. But, enough from her human parents. Read what our kitten, Queen Nefertiti has to say about what she eats on the attached picture.

Thank you Hare Today
Bob & Rose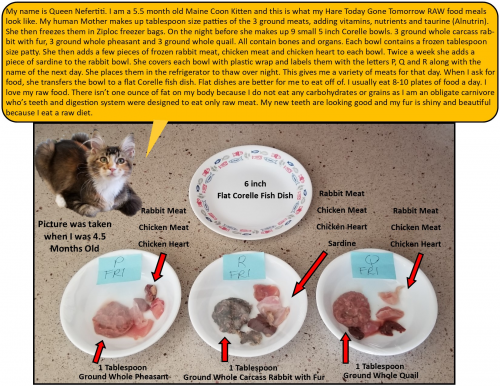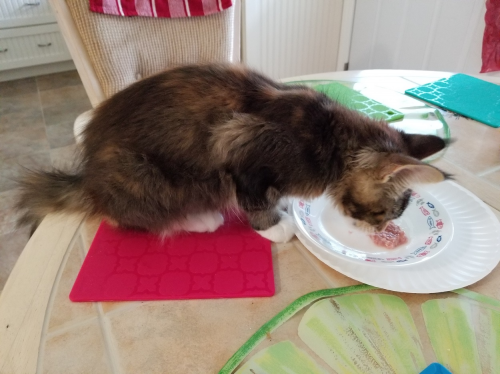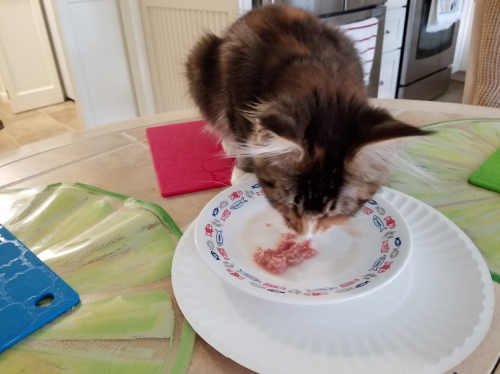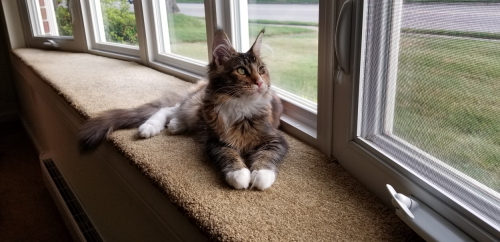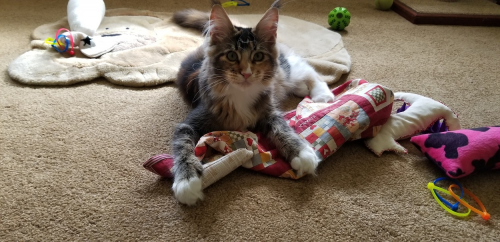 Hare today is essential to our cats health
By Alyssa on July 25, 2018
We originally started a raw diet for our male cat several years ago. He had frequent trips to the vets for UTI's. The ash in dry and even canned food created a build up of grit which resulted in UTI and a very uncomfortable cat.
After see several veterinarians and trying several diets, the holistic veterinarian's prescription of a raw diet was key. We have used several other companies, but the cost, storage and preparation was too much. Hare today has provided a quick,easy, cost effective way to keep our cats healthy.
Thank you
No pain meds
By grace on July 23, 2018
I adopted an 8 year old Doberman with arthritis in her knees. She was favoring one knee and not putting much weight on it. My vet, whom I adore, took x-rays and put her on some pain meds. A friend of mine recommended tripe for her arthritis. I started adding tripe to her raw food. Within two weeks she was doing better. I took her off her two pain meds and she continued to do well. My vet is now a firm believer!! Tripe- its what's for dinner!
LOVE the selection
By Stacy on July 10, 2018
Our tegu loves the raw whole grinds!
Happy cats!
By Sarah on July 10, 2018
We have been very pleased with the products from Hare Today Gone Tomorrow! The shipping and package was great. The items were still cold. The best part is that they meats are hormone, antibiotic and preservative free!!! Hare Today Gone Tomorrow also has the widest selection of products I've seen anywhere. This helps ensure we can offer a variety of meats for adequate nutrition. The meat/bone/organ ratios are also ideal so I can pair the meat/bone/organ with just the organ to achieve the approximate 80/10/10 ratio of meat/bone/organ. I also can pair the meat/bone/organ of one meat with the organ of another kind of meat to offer more variety. My cats are eager eaters every morning and evening and we've seen improvements in their digestion, coats/shedding, allergies, and even their breath! We'll continue feeding raw and buying from Hare Today Gone Tomorrow!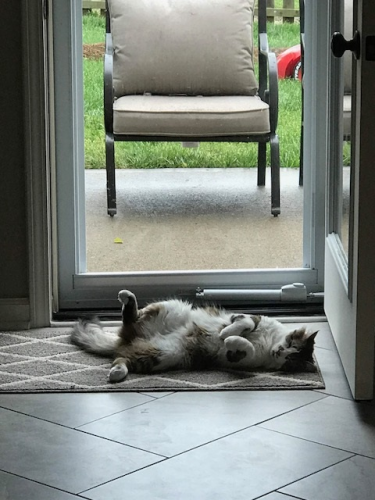 My fur babies love raw
By Amy on July 4, 2018
I have just recently switched to raw. Unsure where to get my proteins, off to google I went. I'm so happy I found Hare today! Great selection of whole or ground proteins and competetive prices! Their ground proteins come in chubs which takes up less space in the freezer than other containers. I would love to see hare today carry whole green tripe..hint hint.