Customer Testimonials
Below are testimonials sent in to us from our customers. Please submit your testimonial with a picture of your best friend(s) and we'll place it up here.
You will earn a one-time reward of 100 points that will be added to your account when the picture/testimonial is placed on the website.
Once you are logged in please go to your account page to submit a testimonial.
Petunia and Daffodil
By Bernadette on January 19, 2022
My ferrets are loving ground raw rabbit, duck, and chicken with bone and organ meat. Their coats are full and soft and don't have that tacky feel that kibble fed ferrets seem to have. Petunia and Daffodil have tons of energy and playfulness and I have peace of mind that they're getting a healthy diet.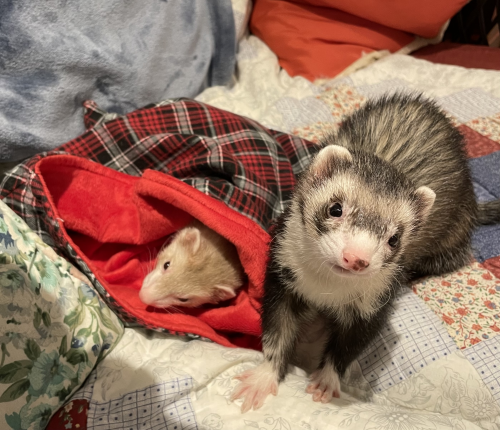 Athena's Health
By Heather on December 24, 2021
My dog has pretty bad environmental and food allergies and raw feeding is really the only way she can eat without breaking out.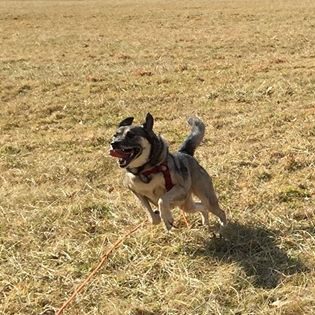 We love your product.
By jeff on December 21, 2021
We love your product. We have 2 standard poodles on a diet of ground rabbit and they wont eat any other product but yours.

We have tried the other guys products and the dogs won't touch it. One of the dogs went from 28 to 40 pounds and has had a major turn around in her overall heath.

They are thriving thanks to you.
Thanks again
Morher's Milk to Raw
By Sharon on December 19, 2021
As a Breeder of Shetland Sheepdogs I only want the best start for my pups. So pups wean to Raw. Hare Today provides Quality, Variety, and Ease of Use. My Adult Dogs love it too! Thank you so much.
Happy healthy puppies
By Brandi on December 12, 2021
My dogs are thriving on Hare Today's meats. They have many options to choose from. I can diy my dogs' food, or I can get grinds. They also have an analysis of each product. My pups and I couldn't be happier.
So happy I found Hare-Today
By Madlen on December 3, 2021
I was feeding my 3 cats and dog raw food from another company but couldn't continue because it was costing me about $300-$400 every month. I didn't want to go back to regular food so I searched for other options. Luckily I found a YouTube video and the person suggested Hare-Today and I went straight to the site and made my first order. So happy I did because so far my cats are lapping it up. Haven't given it to my dog yet (he still has his old food to finish), but I'm sure he will love it too.
Dog and cat both love Hare Today raw food!
By Lindsey on November 29, 2021
My dog and cat, both young and born in 2020, love raw food. My cat sometimes is a little picky, but thank goodness we have our dog who will eat any leftovers! Cat's favorites are the bone/organ/meat grinds of goat, mutton, and beef. Dog's favorites are EVERYTHING, and I love giving her the whole pieces of green tripe, duck heads/brains. My pets are young, but seeing the elderly pets of my friends and family go through degenerative diseases, perhaps due to a life on kibble, makes me even more committed to providing them with healthy, raw, species-appropriate food. And another last benefit to add: their scat is so much smaller and easier to pick up!
The way food is supposed to be!
By Diann on November 24, 2021
My Rhodesian Ridgeback's favorite meal, paws down....is whole prey food! Hare Today's cavies and other small prey food is a natural and healthy choice! My pup goes crazy when I pull one of these out of the freezer!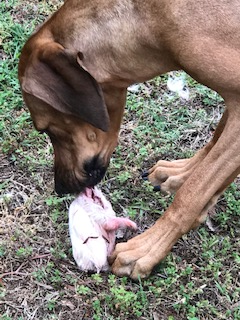 First class products and service
By Sarah on November 21, 2021
I have been a loyal Hare Today customer for five years and counting. Their products, service and pricing are simply the best among online raw suppliers. I own three small breed dogs (all rescues and raw fed) and one large Shepard/lab mix that I have fed exclusively raw from Hare Today since ten weeks of age. He is now almost two years old and the healthiest dog I've ever owned! If you've never raised an animal naturally, you simply can't appreciate the difference in health until you do so. He is vibrant, gorgeous and loving the raw fed life!

I appreciate this small family owned business for providing the best for our fur babies! I will continue to support them with my business and look forward to continued health for my animals.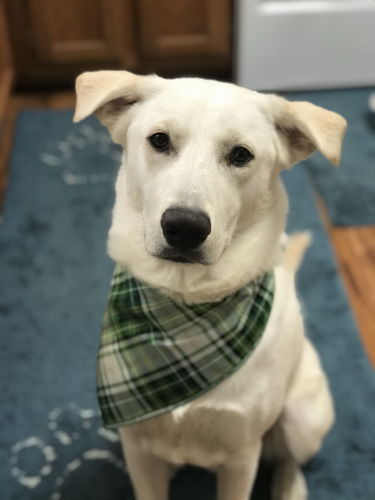 Saved my babies
By Jerrod on November 20, 2021
Many years ago I lost my childhood cat Squirt at age 14. Way too young for a cat I believe. She was covered in many painful tumors. Back then I didn't know anything about nutrition, human or animal. Recently my new addition to the family, my two year old cat was starting to develop the same tumors as my childhood cat. At this time I was researching heavily into human nutrition and started to connect the dots. If diet is so important to humans why wouldn't it be the same for cats? Found out the garbage dried kibble full of carbohydrates, preservatives, and binders that I was feeding my babies was causing so much damage. My two year old was having trouble using the bathroom, painful urination, tumors, and massively overweight. Switched over to raw and his weight dropped within a few months, urination problems gone, shinny coats, no dandruff, and best of all after a few months his tumors were gone and have yet to return. So thankful to be feeding my babies high quality food that gives them so much vigor and life.