Shipping Information
We ship frozen food Monday and Tuesdays only. We ship from the state of Pennsylvania. All orders have to be in minimum of 1 day prior to the next ship date. Orders are done first come first serve. We can ship about 250 boxes in a day. If we are over that amount by the time you place your order you will be scheduled for the following ship date. Example if you order on Sunday and we are at our max for Monday your order will ship Tuesday. Use the comment box during checkout if you want date specific shipping, keeping in mind we only ship Monday and Tuesday. Typically, if orders are placed by Saturday morning, those are scheduled for Monday's shipping. This can vary slightly as it depends on our scheduled box count but is a good rule of thumb.
Generally speaking, our shipping and manufacturing staff work Monday-Thursday, 6am-4pm.
Non-frozen items, if ordered separately from frozen, typically ship via FedEx Monday-Thursday and Priority mail on Fridays. Non-frozen items include Treats, Supplements, Bedding, Essential Oils, Toys and Freeze Dried products, all of which ship for a flat rate of $7.99 with no min or max amounts required.
We ship all frozen food orders UPS and FedEx, based on customer selection.
Please note we need a physical address for shipping. NO P.O. boxes.
When you check out you will have different options for shipping. Ground or home delivery is the least expensive shipping method although ground/home delivery means this is shipped via truck. In the warmer months this will mean more thawing. There are also options for overnight delivery, 2-day air delivery and 3-day express.
If you are showing a 1- or 2-day transit the items should arrive with minimal thawing. The more product you have in your box the longer it will take to thaw. Larger package sizes such as 5 lbs. takes much longer to thaw then 1 or 2 lb sizes. If you want minimal thawing, get 5 lb packages whenever possible or upgrade to air shipping with a faster transit time.
Note: Days in transit, the day order ships is not counted in the transit time. Example: A Monday ship date with a 2 day transit would mean it gets to you on Wednesday.
If you only order 10-30 lbs of product and or are a 3 or 4 day transit, I WILL NOT GUARANTEE THE PRODUCTS WILL BE FROZEN. I address thawing on the FAQ. Again, the larger size bags and the more you put in your box the longer it takes to thaw.
50 lb of product will fit in one box. There is a calculator on the checkout page that will tell you how many lbs you have in your cart.
The longest transit time for frozen food is 4 days in the winter months and 3 days in the warmer months. All 4-day shipments have to ship on Mondays only and the order needs to be placed by Saturday.
Note on 4-day shipping: 4-day shipping is offered when the weather is consistently in the 40's across the country. Ground/home delivery means shipped by truck and the weather has to be cold enough to keep the product cold while in transit. There is no set time as to when 4-day shipping will start or ends as it depends on weather conditions. I will post on our Instagram page and send a newsletter when this option is enabled and also when we will discontinue. Typically, we begin in November and end in April, but again, it all depends on weather.
Our box sizes include the following:
12x12x12 Holds up to 12 lbs of products
14x14x14 Holds up to 31 lbs of products
16x16x16 Holds up to 50 lbs of products
When possible, order the largest size products available, as smaller sizes will thaw faster. For example: Ordering 5 lb package will take longer to thaw then 1 lb packages. Also, our 5 lb ground packages come at a $.50 per lb discount, price is reflective.
Along with ordering large package sizes, I would also recommend filling your box according to the weights provided above. The weights per box size will help maximize your shipping cost and will help keep your products frozen during transit.
For more shipping info go to shipping FAQ http://hare-today.com/shipping_faq
When will your shipment be scheduled for delivery?
Keeping in mind that we ship our frozen products on Mondays and Tuesdays only each week.
UPS Transit Map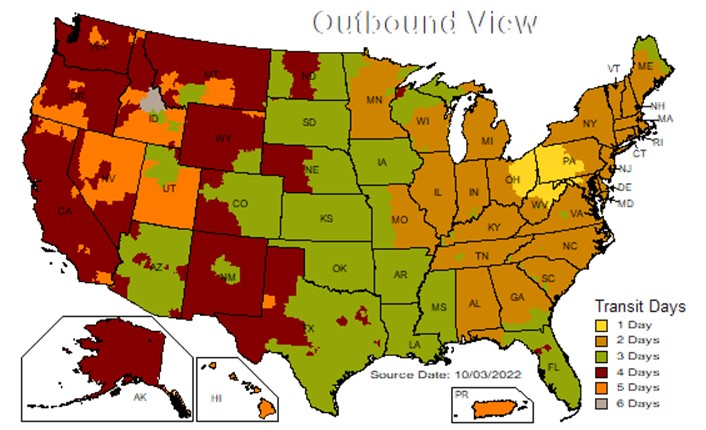 FedEx Transit Map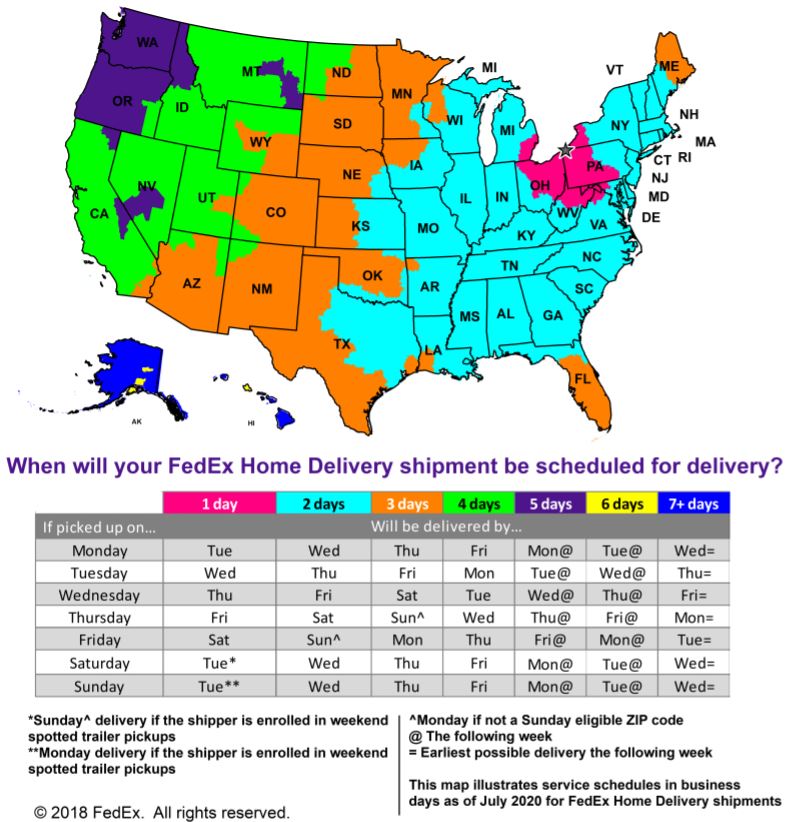 Unfortunately, we do not ship to Washington State given the lengthy ground transit time, as well as the high cost to register each of our products with the State.
_______________________________________________________________________________________________
Holiday Shipping 2023
Monday, May 29th - Memorial Day, No shipping. Shipping will resume Tuesday, May 30th for Express shipments only.
Tuesday, July 4th - Independence Day. No shipping Monday, July 3rd, or Tuesday July, 4th.
Monday, September 4th - Labor Day, No shipping. Shipping will resume Tuesday, September 5th for Express shipments only.
Week of November 20th - Thanksgiving, No shipping. Shipping resumes Monday, November 27th.
Christmas - New Years - No shipping Monday, December 18th through the new year. The last ship day prior to Christmas is Tuesday, December 12th and we will resume shipping on Tuesday, January 2nd. (UPS/FedEx is closed January 2nd in observation of New Year's Day).
Remember, our last ship day prior to Christmas is Tuesday, December 12th and there will be no shipping the week of December 18th through the New Year.
Each year at this time, products are more limited as this is our lowest inventory point of the year. During the weeks before Christmas and the new year we complete our year-end inventory counts and also a full facility clean and sanitation.​
Our team is still hard at work processing and restocking our products during this time, and we also hold our annual Standard Operating Procedure and Good Manufacturer trainings.