Happy Customer Testimonials
Below are testimonials sent in to us from our satisfied customers. Please submit your testimonial with a picture of your best friend(s) and we'll place it up here.
You will earn a one-time reward of 100 points that will be added to your account when the picture/testimonial is placed on the website.
Once you are logged in please go to your account page to submit a testimonial.
Quality Raw Foods
By Barbara on June 21, 2019
I have been feeding a balanced raw diet for about 20 years. In that time I have purchased products from many places. Hare-Today has some of finest quality products.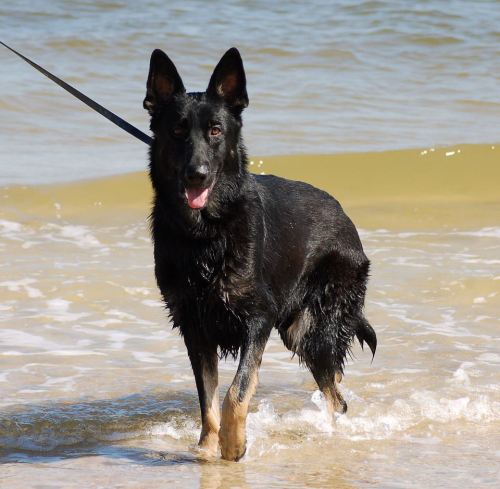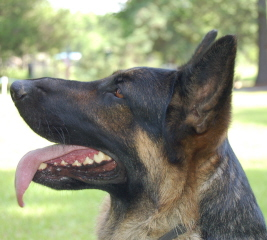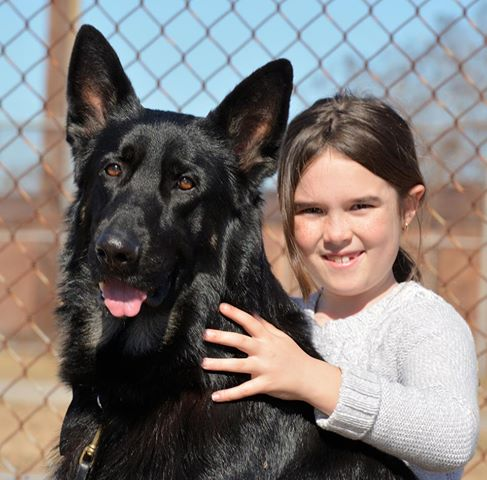 I WROTE THIS ON OUR NEIGHBORHOOD WEBSITE
By Gloria on June 16, 2019
Our healthy "lean mean fighting machine" 5 year-old Marble
Bengal has been eating wet food her entire life. Recommended
by our breeder. She eats a combination of chicken, turkey, and
rabbit with a dry supplement mixed into her food. We order her
food every few months from a wonderful farm in Pennsylvania.
Read all about it at
www.hare-today.com.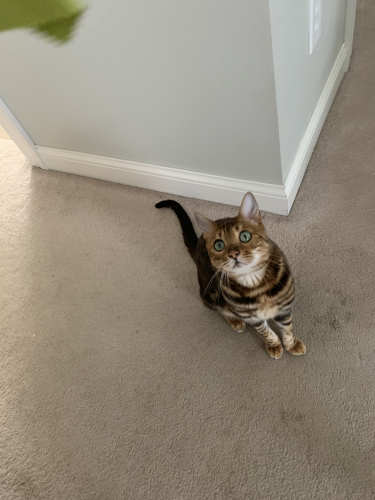 Quality Raw Rabbit
By Karen on June 10, 2019
This is my first time ordering from Hare Today; I live in Pa. and this is convenient for shipping and the quality is excellent. I remember watching a video by Dr. Judy Morgan stating that the raw rabbit from this company helped her small dogs with their allergies and so I figured this was the place to order from. I was very pleased to open a package and find that the product looked as it does on the site. My dogs gobble it up and beg for more. The packaging and shipping is top notch also.
8 Counts and Counting
By lisa on June 4, 2019
I currently have 8 cats all of which are on raw. I got started on raw 6 years ago after researching alternative diet for my cats. One of my male cat I had since 3 weeks old, suffered from kidney issues, another from bladder issues. I promised them I would seek better options for the current living siblings. That was when I found Hare today. Their meats and supplements are high quality. I don't have to grind the meats or have to figure out the measurements for the supplements anymore. I highly recommend.
Best raw around!
By Jessica on June 1, 2019
My guy has been on a raw diet for a little over one year now. We've tried a few different companies, and Hare Today is by far the best. Most companies only have a few different proteins to choose from, so we love that Hare Today not only offers many choices for protein, but also different grounds, cuts, and even whole prey! It's so amazing and helpful to be able to transition properly by adding chunks of meat and then bones and even whole carcass grounds before going straight to whole. We love the pinkies too!
Jericho was rescued from the streets so luckily our transition to raw was very quick and easy. He loves any food, but he has definitely gotten more of his street side back with the pinkies and other meats offered by Hare Today. Most companies have information on their website, but you can tell that Hare Today is much more thorough with theirs. You can tell that they care about the health of your pet, and furthermore care about the world. I love that Hare Today supports local, family businesses. You can really see the quality in the products, and if you have questions, they respond within 24 hours. All orders are fulfilled and shipped with precision so we never have to worry. We are so happy we found Hare Today! If you are still choosing between companies, you have found the one! Thank you for everything!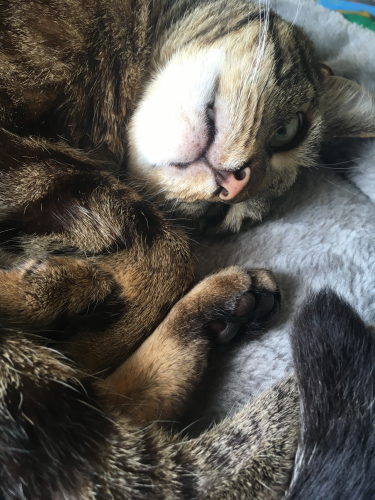 Terrific product and service
By Cecile on May 29, 2019
I am so glad I found Hare Today. Little Goldie recently became allergic to lamb. She was already allergic to poultry, beef, pork, and bison, so not being able to give her lamb was making my life both difficult and expensive. Goldie loves the ground boneless rabbit and the rabbit chunks from Hare Today, and we are experimenting with some of the other meats. I love seeing Goldie so happy at mealtime and so healthy all the time.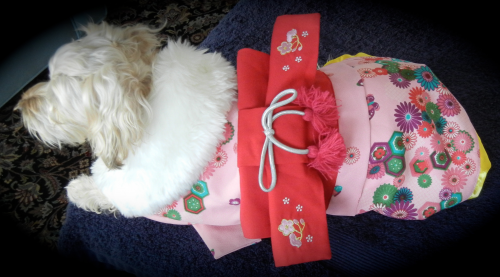 Brook loves her food!
By Cheryl on May 23, 2019
We got our 55 lb order. It came exactly when expected and shipped perfectly. We cut up all the meat in portion sizes for Brook's meals and the meat looked high quality.

Very happy we ordered from Hare Today!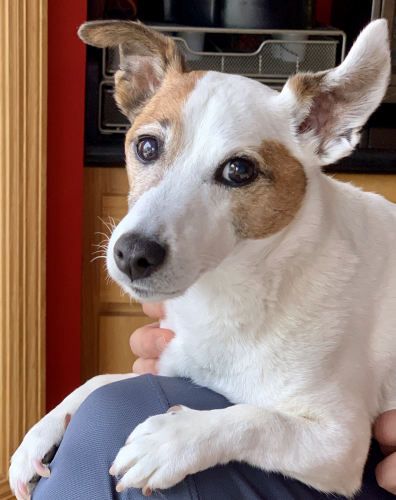 My senior cat loves your ground rabbit
By Cynthia on May 20, 2019
Rascal is 19 going on 20 now and had been losing weight on his normal wet food. He loved the ground rabbit from day one, and pesters me first thing every morning now for his bunny food. He also is regaining weight and his coat has improved. Thanks Hare Today.
This is my only hope...
By Aleksandra on May 17, 2019
I have a cat..well.. I got her last fall 2018 right on 10/31. She is 11 y.o. At that time she was already not very healthy. She acted very bright actually, but I assuming she just wanted to get out of shelter..I know this feelings.. I have pretty much twisted life behind my shoulders.
So.. I also have a cat in different state. My cat. I mean i had a cat. Rescued. At that time, when she got sick, she also was 11 y.o. and she passed away.
This rabbit, haha - is my very only hope that this cat creature will finally revealed his wild instinct and will start to eat normally like everybody else!!!!! I work so hard to get her out of spasms and seizures, forcing her to eat and drink. I am just barely hold myself and waiting for my order.
I was trying to give her dry-freeze rabbit - nope.
Today, I bought freeze duck - also no. mix with her wet food and she ate everything besides this duck (what a duck!)
The only thing that she doesn't realize yet that Im very stubborn when I know i want this to be done and this is the only way.. I have an autistic child and well... this path is very unique and hard, so to transit my old cat to real food should not be as hard as I have everyday in my life . We'll see..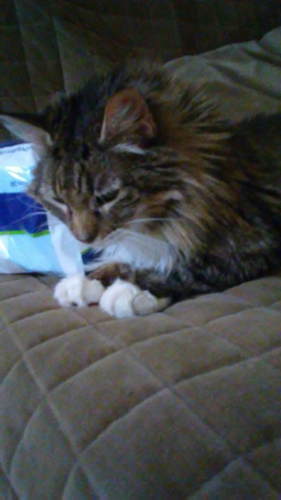 First time raw
By maggie on May 2, 2019
I have an 8y/o husky and a 15 y/o cat that came to me early in 2019 with less than robust health. The cat vomited daily, also costipated, didnt drink enough, and had a history of UTIs, was weak, poor coat, no muscle. Was very poorly upon arrival. He got so much better when i began feeding him chicken livers, which got me interested in raw diet. The dog was loved at his previous home, but his mouth was inflamed, he shed tremendously, didnt eat his food, had a very low body mass for his size. I got him off the grain free kibble probably in the nick of time-- he was showing signs of heart trouble.
Needless to say i found Hare Today. And i am blown away with how quickly these guys took to raw! Its NOT the same as burger meat, which the dog doesnt even look at. The cat actually ate the raw food OVER his liver! The rabbit chunks? Oh my. What a treat. I got plenty of beef gullet since reading its good for inflammation. Everything offered, they have licked the plate clean of.
My last two pets died of cancer in their late teens. A cat with throat cancer and a dog with hemangiosarcoma. I cant help but think they may have lived much longer healthier lives on a diet like this (even though a 16 year old otherwise robust and athletic husky is pretty good). I think its worth every penny.