Customer Testimonials
Below are testimonials sent in to us from our customers. Please submit your testimonial with a picture of your best friend(s) and we'll place it up here.
You will earn a one-time reward of 100 points that will be added to your account when the picture/testimonial is placed on the website.
Once you are logged in please go to your account page to submit a testimonial.
MY CAT LOVES THIS
By Danielle on June 30, 2023
I am so grateful for this company. This has made feeding my cat the correct diet so much more affordable and convenient. To say my cat loves this food is an understatement. I prep it into small baby-size jars and keep it in the freezer. She wouldn't eat it completely raw, but I just put the little jar in the microwave for 35 seconds and she is happy. Thanks so much!

Response from Hare Today: Warming meat a bit with a warm water bath can be helpful, make sure the meat is in a sealed container and place the container in warm water. This brings out the natural juices of the meat and helps to entice them to eat. NEVER cook bones or microwave as bones can splitter.
Happy Maine Coon
By Olivia on June 23, 2023
I was having terrible trouble getting Theo to eat what I wanted him to eat until I found Hare Today! He's raw fed and loves the meat, especially the rabbit, that I get here so I love it as much as he does.🐱
A world of difference
By Karen on May 7, 2023
Once my 14-year-old cattle dog was diagnosed with diabetes, I switched her to a raw diet and the difference was phenomenal. Hare Today makes it easy to order and the information allows you to be successful when feeding raw. I plan on continuing to provide my girl with this type of diet. Many thanks!
Hare Today - Ears & Feet
By Laura on April 7, 2023
My dogs absolutely LOVE the rabbit ears and rabbit feet. It's all I can do to keep their heads out of the freezer when I open the drawer to get them!!!
Bestest & freshest for cats!
By Diana on March 10, 2023
I adopted my Mabel about 3 months ago, and she'd always been a picky eater, which led me to look into nutrition and diet for cats. I found the raw food community and decided to try it out. Mabel immediately took to the food - she'd been a stray cat as a kitten, and she took to raw food immediately.

Fast forward 3 months later, and Mabel is an extremely happy and healthy cat. Her coat is ridiculously shiny, she has stable energy all day, and she's finally out of her shelter shell. Hare today has consistently provided the bestest and freshest meats. We switched to another raw food distributor because Hare Today was out of stock at the time, and Mabel barely touched her food. We ended up throwing away most of the raw food - which was noticeably less fresh, even to our human noses - and restocked as soon as Hare Today was restocked. Her appetite came back immediately.

I also love the variety of raw freeze dried treats Hare Today offers. We get a mix of rabbit ears with hair and organ meats and use that as a topper for her food to keep it interesting.

Hare Today has always delivered! Thank you - we are customers for the foreseeable future!
Testing it out.
By Jane on March 6, 2023
I have 8 cats and I really want them to have the best food possible. So I'm trying this for the first time to see if this is a good fit for them not just for the quality of the food but also the price.
Happy cat
By Kat on February 28, 2023
My cat I felt like was passing away and was having frequent seizures. I was unaware as cats get older they develop an intolerance with their pancreas to process kibble. I thought older cats were supposed to be lethargic and sleepy but he was just sick. Switching to an all meat diet has given him new life. He's my 16year old baby and he's playful and purring again with no seizures, which is crazy.
On
By Loyce on February 10, 2023
I have two chihuahuas. Since we got them a year ago, we have used the ground beef organ and bone chubs. This past month has been very challenging for my family. I lost track of time and got my babies food ordered late. Luckily the order was received and processed in time that my babies will have their normal food with no interruptions. What a joy it was to see the shipping information come to my email! Thank you for such wonderful customer service.
Excellent, reliable products and company
By Angela on February 7, 2023
Thank you so much! I just opened my most recent order and it really warms my heart to see the packing slip used to check off and doubly ensure that my package is going to be correct. The underlining, squiggles, heart-shaped circles, dashes, and initials indicate such dedication to making sure the orders are exactly right every time. I so so so appreciate knowing I can count on the crew at Hare Today to help me care for my old-lady cat babies in the best way possible.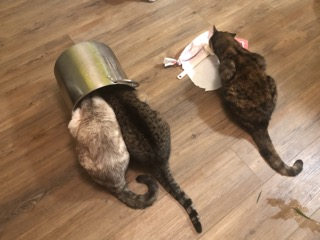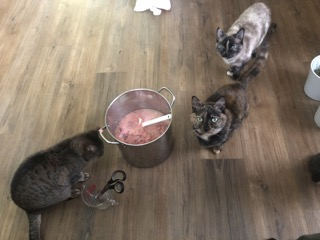 Fine ground chicken
By Christina on February 5, 2023
Bought the fine ground chicken with organs and bones for my bengal cat and he absolutely loves it. My other cat that I had who is 3 years old also likes it now too.