Customer Testimonials
Below are testimonials sent in to us from our customers. Please submit your testimonial with a picture of your best friend(s) and we'll place it up here.
You will earn a one-time reward of 100 points that will be added to your account when the picture/testimonial is placed on the website.
Once you are logged in please go to your account page to submit a testimonial.
Happy healthy pets
By Marianna on December 22, 2022
Our two Siberian kitties are exclusively fed on Hare Today raw diet since we adopted them. We have tried a local supplier but they did not tolerate the meat so we switched back to Hare Today. Our kitties are happy and healthy as ever. If you care about your pet health - do not hesitate, switch to Hare Today now!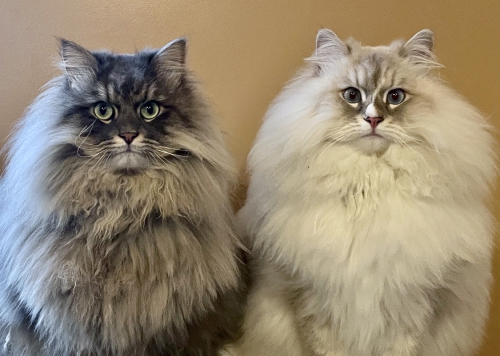 My dogs love it
By Dora on November 11, 2022
I started ordering from Hare-today when my 10 year old Great Pyrenees was diagnosed with osteosarcoma. All three of my dogs love a variety of meat we order including rabbit, duck, and whitefish and now cannot wait for their food to be served. My dogs have shown an increase in energy, their coats are softer, and look visibly younger. The oncologist is amazed at how remarkably well my boy is doing and how he breezed through his treatments. I'm hopeful all three of my dogs will lead longer lives from this healthy diet they enjoy so much!
They're Better With Hare-Today
By Julie on October 13, 2022
I LOVE that Hare-Today has ZERO added ingredients. Many other ready-made raw food brands for cats feel the need to add supplements or veggie-based ingredients. I had tried a number of them but my Siamese girl - Chloe - always seemed to have an inflamed gut, as her BMs were either runny or coated in a layer of mucous... I was suspicious of the psyllium husk in our last cat food brand. Cats are Obligate Carnivores so I don't believe they should be getting plant-based fiber in their diet -- so I researched a little and decided it was time to switch. As soon as we made the switch to Hare-Today Chloe's BMs normalized! And she became a happier girl as a result! :) Not to mention this switch made it easier on the budget!! We are SO thankful we found Hare-Today! <3
PS. Sophie is her sister in mostly white. :)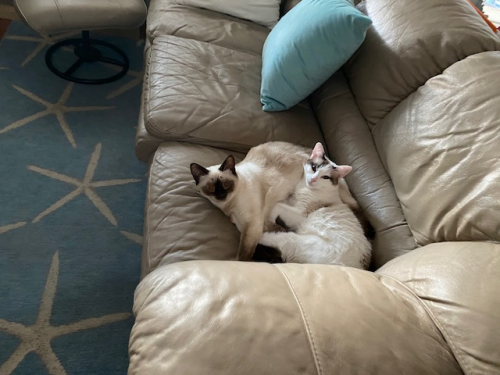 Rabbit Chunks And Gizzards
By JACQUE on September 26, 2022
Everything I've received so far as been great. The rabbit chunks were a big hit. I found the gizzards, duck to be of great quality and fresh.
Raw Feeding Forever
By Xinxin on September 4, 2022
My dog has been on raw feeding since he was very little, definitely recommend raw feeding to every pet parent.
Happy Boys
By Cindy on July 29, 2022
I have both of my rescues eating Hare Today products now for about 3 months. It does my heart good to see them going to their placemats & waiting even before they are put down for them. These are very picky little boys but not when it comes to this food. Their coats are soft & shiny plus their teeth look great! Thank you Hare Today for making the lives of our domestic animals better!
Still Kittens at 11!
By Barbara on July 25, 2022
I've been feeding Fia and Irene, indoor sister shorthairs, pretty much the exact same meal, twice a day, since they came to live with us at age 4 months.
My last cat died of thyroid disease at age 15. Before I got more cats, my research led me to feline-nutrition.org, which convinced me that the optimum diet for my cats is what wild cats eat-- whole small birds and mammals, uncooked! There I found both a recipe and referral to Hare today. My go-to for a 30-day batch is 7 lb ground rabbit with bones and organs, 1 lb whole ground rabbit, 2 lb turkey hearts or chicken hearts, 1 lb chicken liver or turkey liver, 2 lb chicken chunks, 8 eggs, 6 cooked sweet potatoes, and supplements of vitamins B and E, salmon oil, taurine and psyllium husk, all mixed with a quart of water frozen and stored frozen in 1-pint canning jars. It takes me about 90 minutes to prep a month's worth.
These girls gobble their food right down and lick their bowls in a race to the finish EVERY FEEDING. I could count on two hands over 10.5 years when they left or refused food, and that's because they ate something they shouldn't have-- a lizard that got in under the screen, flowers, and plantain chips come to mind. The weird thing is, these cats NEVER drink water, even though they have constant access. They get all they need from the recipe. After all, house cats' ancestors were desert dwellers.
They are a perfect weight, their fur and teeth are super healthy, and they've never had urinary or bowel problems, ever. They tear around and chase toys like kittens. They very rarely throw up-- and even then just a hairball. I've even had a vet tell me this: "I don't recommend raw diets, but I have to admit that your cats look incredible!" Maybe these cats have opened her mind!
Hare Today has been consistently dependable with respect to quality and shipments and price.
Fia and Irene each eat 5-6 oz each per day. I spend about $1.20 per day per cat.This is far less than if I bought premium wet cat food for them. I hear my friends complain about their cats being picky eaters and having all these health problems. I tell them my experience but I guess they don't want to go to the trouble. My cats are sleek, lively, and I've had ZERO vet bills beyond exams and vaccines. That makes my prep time totally worth it, and is all the confirmation I need that their diet is what cats are meant to eat.
I've worked in three zoos. All cats in zoos, large and small, are fed a diet of raw meat. House cats should be, too!
Thank you, Hare Today!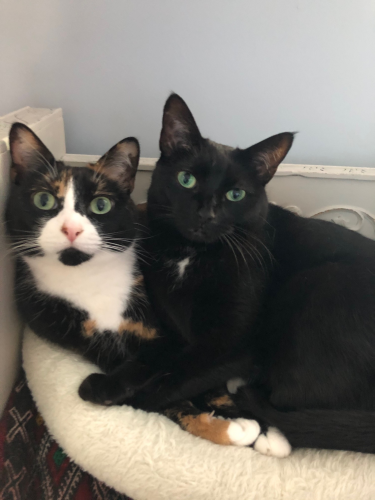 City Cats love it
By Michelle on July 19, 2022
So easy for me to be able to provide my cats with the best food possible, thanks to you guys! Living in Manhattan, where it is all about convenience, there are not a lot of ways to get variety of meats. Thank you <3 My cats are happy and thriving!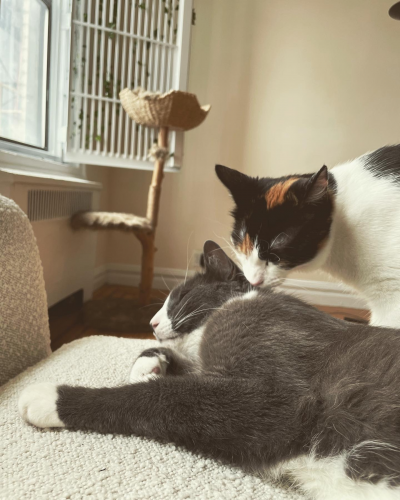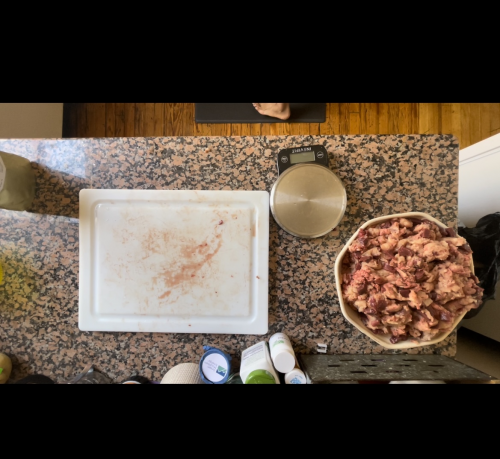 Easiest food option and healthiest!
By Jennifer on July 10, 2022
We were struggling with trying to feed our 2 Maine coons with healthy food, when researching raw options I came across the Hare Today website and they were beyond helpful. Answering every question I had and evening sending me links of informative sites. They have been the most reliable in shipping times and the our little beasts love the food.
Rabbit...my boy LOVES it!
By Robert on June 10, 2022
After trying several proteins for my cat Grayson over the past few years, his favorite is the rabbit! He loves it! He will eat other proteins such as turkey, pork, and venison at times, but the rabbit, he literally devours that!! Thank you, HT for a good product!