4-Day Shipping
Published on March 10, 2021
---
03/29/2021
Our 4-day ground shipping is now disable until next winter season.
03/10/2021
4-day Ground Shipping (for our West Coast customers) is now available AGAIN after the brief warm up this week.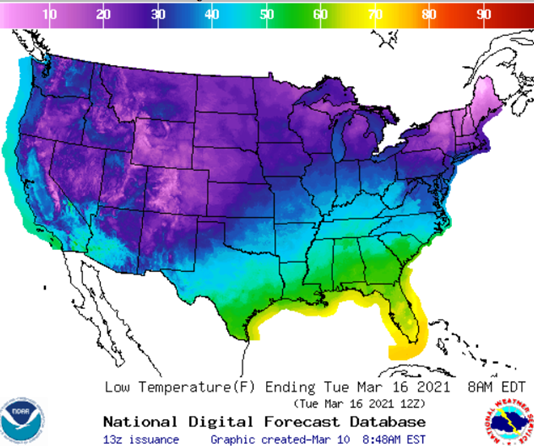 I'm not sure how long the colder weather will stick around after next week's projected cool down, but looking at the 5-day forecast the weather is showing a consistent 40 degrees across the country.
Remember, the longest transit time for frozen food is 4 days in the winter months and 3 days in the warmer months. All 4-day shipments have to ship on Mondays only and the order needs to be placed by Saturday.
Note on 4-day shipping: 4-day shipping is offered when the weather is consistently in the 40's across the country. Ground/home delivery means shipped by truck and the weather has to be cold enough to keep the product cold while in transit. There is no set time as to when 4-day shipping will start or ends as it depends on weather conditions. Typically, we begin in November and end in April, but again, it all depends on weather.
03/03/2021
With the upcoming warm-up next week, 03/08-03/12, our 4-day ground transit availability has been temporarily disabled.
Keeping our products safe during transit is so very important as the lives that go into our products mean so much. I am not comfortable shipping 4-day transit if the temps across the country are above 40 degrees.
---