Fall 2020 Newsletter
Sent on November 11, 2020
---
Fall 2020 Newsletter
Fall has always been my favorite season. The time when everything bursts with its last beauty, as if nature had been saving up all year for the grand finale.
-Lauren DeStefano

I bet you are wondering why I started with a fall opening...
So the truth is, I started this newsletter a few months ago and since then, our boys, Wyatt, age 12 and Owen, age 7 started cyber schooling. Our decision was not easy, but I am happy to say that this decision has been validated many times over and I'm so thankful we were able to make this choice.
Although my typical 8am-4pm has changed slightly, I continue to work diligently each day to serve your families. We have a great team, with a few new faces, and I'm excited to share some recent updates on our website, what's coming in the new year for Hare Today and of course share some love with a Thanksgiving coupon code.
Recent Updates:
ADF Recipe
Have you noticed the newly added recipes on our website? Click here for an example and review the More Info tab. Our Recipe Details are created using the Animal Diet Formulator (ADF) presented by Royal Animal Health University. Please note that the minerals, vitamins, fats and amino acids are formulated based on the FEDIAF 2018 Diet Standard with the Modified At Water type.
In researching and learning more about the AAFCO model in comparison with the European model (FEDIAF), evidence points to FEDIAF taking the upper hand as this model considers different energy levels of pets. I would also recommend reading the article here on Truth about Pet Food, where Susan Thixton explains more.
Seeing out of stock products on the website?
Since the start of the Pandemic, I have been diligent in sharing our weekly processing list on our home page for your quick reference and ease of ordering. Please know we are working extremely hard at keeping all inventory in stock, but we do run out occasionally and need time to get restocked. On the product pages you will see the quantities available. If you order more than the quantity listed you will not be able to check out. You can only order what we have in stock. Remember, orders are done on a first come first serve basis, no pre-orders.

If product is out of stock you can sign up for an email notification to be notified when product stock is updated. Click on request stock notification. If an item is out of stock for more than a week this means it is unavailable at the present time.

For some items the demand exceeds supply such as Tripe, Pancreas, Alpaca and Llama. These items sell out on a weekly basis. The best way to get these items is to order immediately, once you are notified that the product has been added. Again, first come, first serve.
More information here within the "What is your schedule for processing products and handling out of stock inventory?" FAQ.
What's coming in the new year?
So glad you asked!
First, we would love to analyze our TOP 5 ground meat/bone/organ products and add a BRAND specific listing in the Animal Diet Formulator (ADF). This will most likely include (in no particular order):
Analysis details may include nutritional data such as protein, fat, fiber, calories, calcium, phosphorus, vitamins and more.
Going hand and hand with our recipes and nutritional data, we are also compiling a "one page" summary containing Calcium, Phosphorus, Ca:P, and Fat data per product to help keep you informed. This reference guide will be predominantly helpful for pet parents dealing with IBD, Kidney disease or decline, EPI, etc.
Information is power and my mom, Tracy Murphy established Hare Today, Gone Tomorrow in 1999 with a strong foundation in keeping our customers informed. I will continue to keep that torch burning bright in sharing information as we believe you have a RIGHT TO KNOW.
Thanksgiving Coupon Code
Use this coupon code to get $25 off your order, $150 or more, starting today through the end of November!
Coupon Code: ThanksandLove
Valid: November 11, 2020 - November 30, 2020
*Coupon codes must be applied during checkout only. Please do not email about coupon codes not applied at checkout, no credit will be given after order.
SHIPPING NOTICE:
There will be NO shipping the week of November 23rd and we will be closed on November 26th, for Thanksgiving. Shipping will resume following the holidays on Monday, November 30th.
Christmas - New Years - No shipping Monday, December 20th through the new year. The last ship day prior to Christmas is Tuesday, December 15th and we will resume shipping on Monday, January 3rd.
2020 Holiday Peak Season
As of November 2, many locations have a +1 day transit time for both Ground and Express FedEx deliveries. Information regarding length of transit is available during checkout on the shipping method page. For the holiday peak season zip code listing and additional information, review our Shipping Information page here.
Remember, if your delivery is a 3 day transit, there will be a $5 shipping fee included on your purchase. For all 3 day+ transits we add extra freeze packs (4 instead of 2) and additional dry ice for food safety.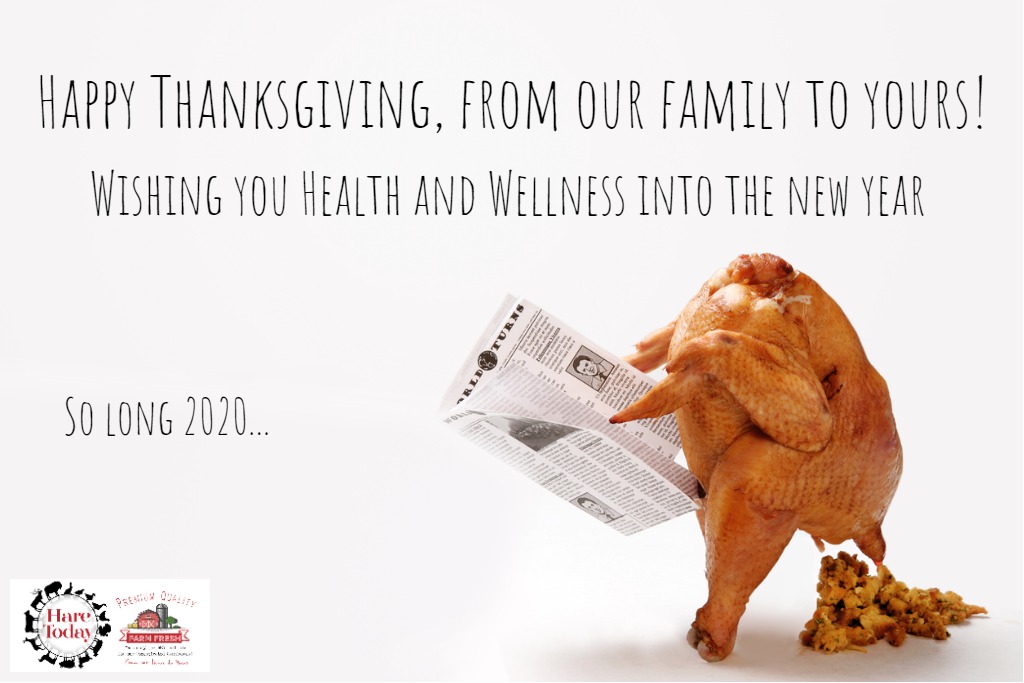 As always, if you ever have a question, please let me know and I am happy to help!
Best regards,
Ashlee [Wife, mother, passionate owner of Hare Today, and follower of Jesus]
November 11, 2020
---