Happy Customer Testimonials
Below are testimonials sent in to us from our satisfied customers. Please submit your testimonial with a picture of your best friend(s) and we'll place it up here.
You will earn a one-time reward of 100 points that will be added to your account when the picture/testimonial is placed on the website.
Once you are logged in please go to your account page to submit a testimonial.
Raw = Healthy Animals
By Taren on December 5, 2015
I have been feeding my 5 Chihuahuas raw food and raw bones for a few months now and they LOVE it!

Their coats are shiny and soft and they are healthier than ever.

The changed in food happened because my dog was diagnosed with IMHA and a lot of changes had to happen and changing to a raw diet when he went into remission was one change.

I don't regret it and wish I did this years ago but its never too late!
My dogs are so healthy now! Its not cheap but well worth healthy dogs!!!! :)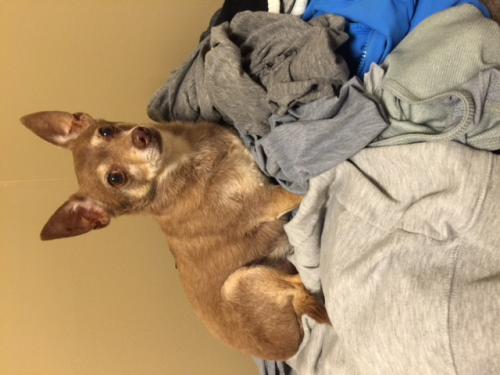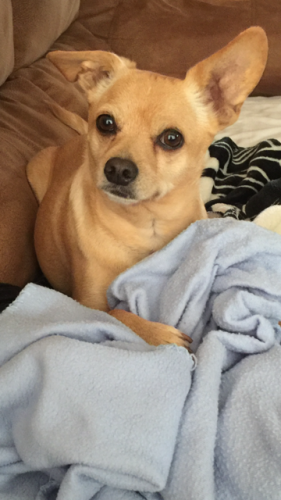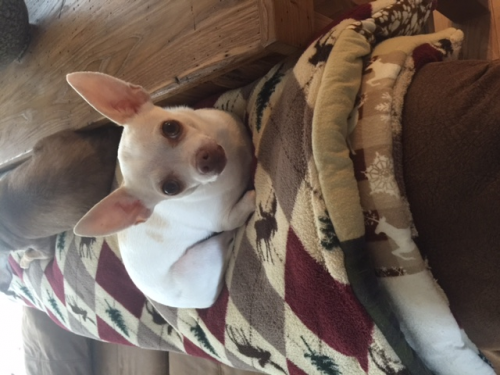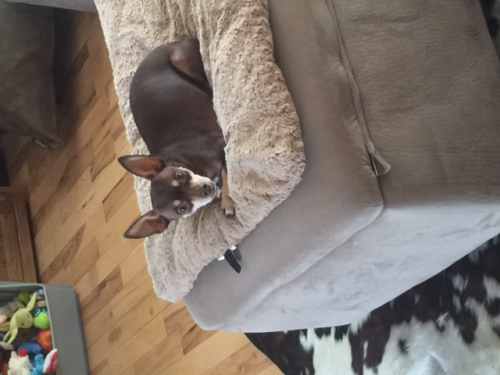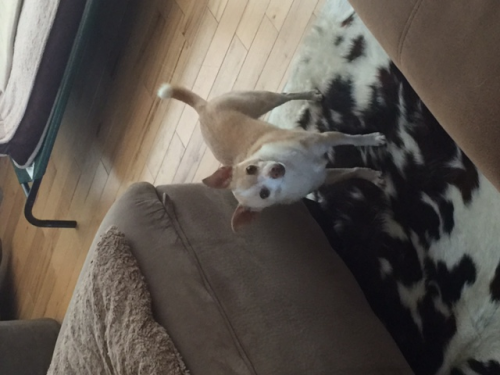 Five Ridgebacks Can't Be Wrong!
By Trish on December 4, 2015
I started feeding raw several years ago to address allergy issues my senior Rhodesian Ridgeback suffered from. It was difficult to maintain due to lack of variety and inventory in my area, so I was delighted when a friend recommended Hare Today for our raw food needs. Problems solved and I have been a loyal customer since January, 2014! Three purebred and two RR mixes all agree Hare Today deliveries are like Christmas, and they can't wait to help open the packages.

The ground meat/organs/bone items work great in many of our food puzzles, and while I wish the fish could stay in the bowl while being eaten, it guarantees regular mopping of the kitchen floor!

During vet visits, I am always complimented on the quality of coats, skin, clear ears and eyes, and outstanding overall health of each of my dogs. I can't help but believe a quality raw diet has been instrumental to these great results!

Outstanding customer service, great variety and a consistent level of high quality products will keep us coming back for more and recommending Hare Today to our family and friends!

Thank you Tracy!

Trish, on behalf of Sasha, Royal, Axel, Layla and Zuko!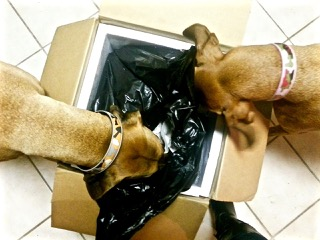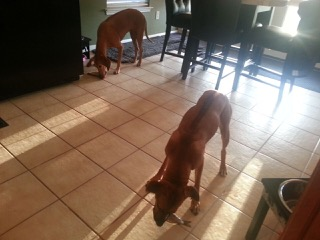 Smelly Cat, What were they feeding you?
By Genevieve on November 11, 2015
10 months ago we adopted (and renamed him to) Awesomer after a quick meeting at an adoption show.

He made himself right at home in our house and used his litter box immediately and consistently. The only problem was that when he did, it STUNK!

Being a first time cat owner I read everything I could about feline health and behavior. Jackson Galaxy lead me to feline-nutrition.org and that led me to hare-today.com.

Following the directions from feline-nutrion.org I switched him to a grain free canned food, then started making his meals myself using their recipe and the 5lb chubs of ground meat/bones/organs from a variety of animals.

Almost instantly his poos became dry and odor free. His soft fur became even more so and he smells like clean baby all the time

I also treat him to a whole piece of something with the bone in every day to help him work his jaw and clean his teeth.

Here he is enjoying a rabbit head!
Raw Food is truly Awesome.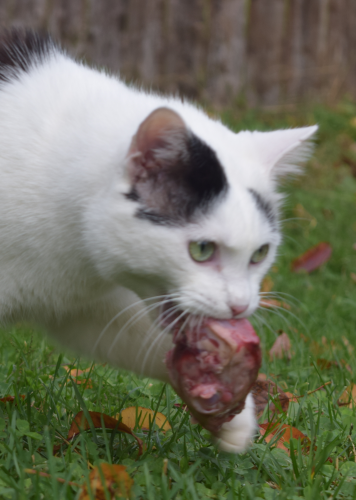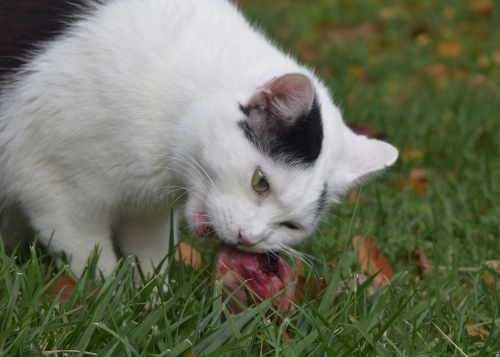 Love and Trust Hare Today
By Debbie on November 7, 2015
I took the leap 3 yrs ago for my dogs into a raw diet. I have been buying from Hare Today the entire time.

I not only trust them 100% but find they care about our pets. And the new website layout is wonderful too.
I will never buy from anyone else my dog foods.

Thank you for caring for my pack of 5. They are thriving!!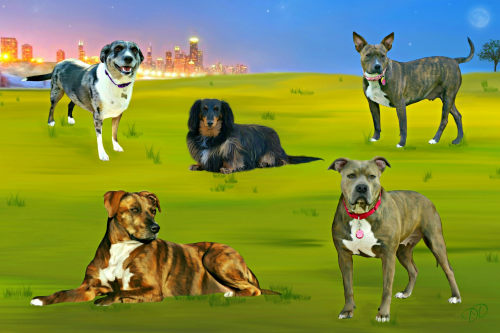 KUDOS
By Dee on November 7, 2015
HareToday-GoneTomorrow brings customer service to a new level.

I get immediate acknowledgement when I place my orders, notice of shipment date, as well as, the FedEx shipping information.

My orders arrive when promised and always in perfect condition.

Zeus and Pandora meow loudly when it is "bunny time".

I wish I had known about about the medical benefits of a raw diet 5 years ago. Due to a case of gingivitis, Pandora lost one of her lower canine teeth. Feeding my babies HTGT's ground rabbit meat/organs/bones is keeping their teeth clean. They get an A+ when I take them for their annual wellness exam.

Our thanks to Tracy and her family for all they do to keep our furry kids well and very happy!!

Dee, David, Zeus, and Pandora
November 7,2015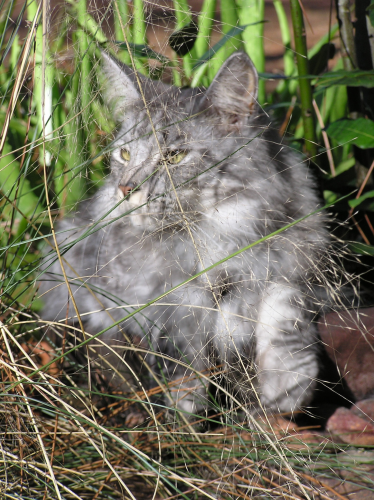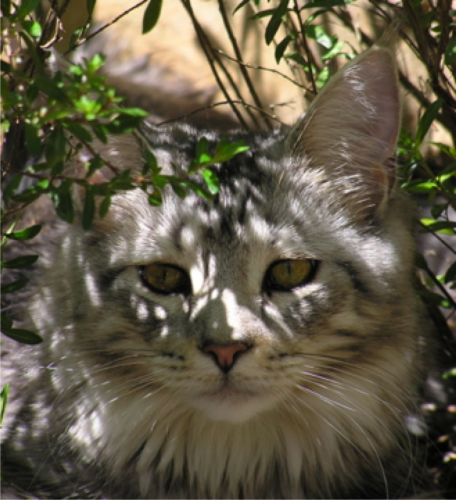 Hare Today Gone Tomorrow will Hopefully here forever!!
By Donna on November 6, 2015
I have fed raw diet to the dogs in my kennel for 5 years. I use to use many different distributors, and what I like best about Hare Today Gone Tomorrow is that it is a "one stop shopping" and they ship it to ME! I use to go all over the region getting my meat...but not anymore.

I like the packaging and the great variety!

We have bred Labradors for 30 years and have shown our dogs for the past 15 years and are Breeders of Merit with the AKC.

Our dogs always have to have great coat, teeth, and muscle tone, and the raw food helps so much.

Also, our fertility sky-rocketed. I have one stud dog that had almost no sperm under the microscope, and then 2 months after eating raw, it looked like a SWARM under a microscope. So I could really SEE the difference.

Our brood bitches held their coat better, had better milk, easier births, more puppies, and the puppies thrived a lot better.

Donna Stanley
www.emlabradors.com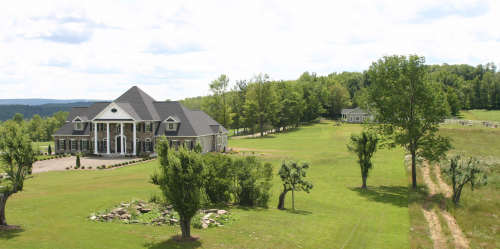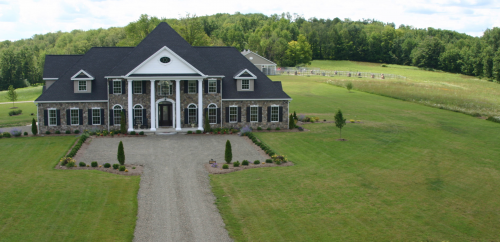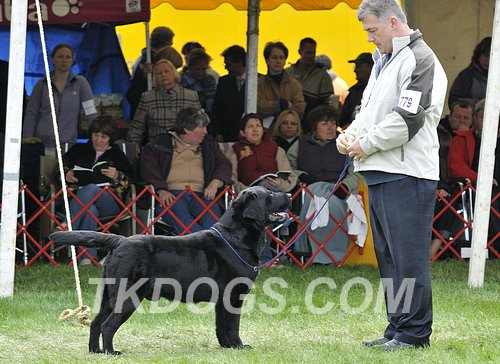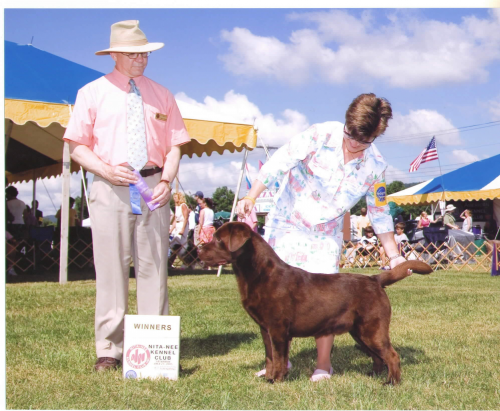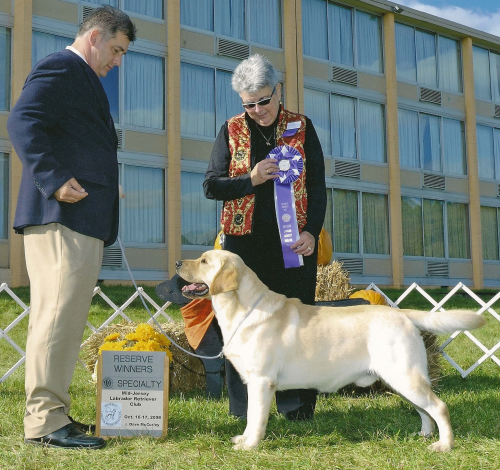 The Best Raw Food Out There!
By Joanna on November 1, 2015
Hare Today has been a wonderful source for raw meat for my dogs.

I could not be happier with the quality of meat/bones etc. as well as the shipping!

My dogs absolutely love everything that I feed them from Hare Today and my almost 8 year old German Shepherd looks fantastic as does our newly adopted one year old Great Pyrenees who only recently was changed to a raw diet.

We can already see the difference in her eyes, they are brighter, her coat is beautiful and she just looks all around much healthier! My 8 year old GSD had ACL surgery early August and I do believe her (raw) diet has helped her to bounce back even faster!

She and her Pyr friend are now walking 3.5 miles per day along with their evening walk which is shorter. Both look healthy and vibrant.

I highly recommend Hare Today! Tracy is also always available when I have questions or need advice. Shown is a picture of "Spex" our Great Pyr eating a turkey neck for the first time! She loved it!! My German Shepherd devoured hers with enthusiasm too!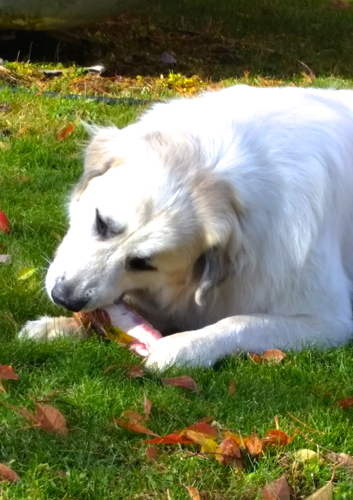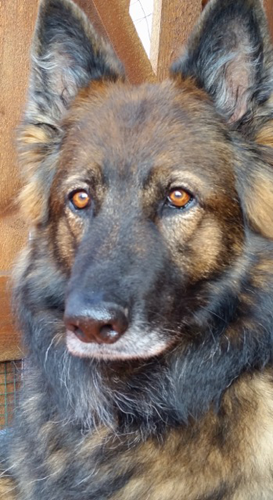 This is the best!
By Susan on October 21, 2015
I have been feeding my 18 y.o.cats raw all their lives, but the food we had been getting did not have organs included, and they refused it much of the time.

So when we started with HARE meats, they now enjoy their meals more, and I am impressed...it is really fresh!

Thank you Tracy!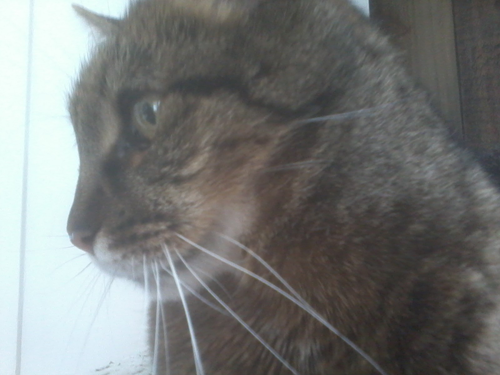 A Life Saver!
By Heather on October 15, 2015
I have 4 cats. About 8 years ago my grey cat Smokey was suffering with constant urinary blockages. Surgeries, many vet visits and their recommendations of food was not working.

I started doing some research and came across articles on raw feeding. I found you site and decided to give it a try.

He has been blockage free since! He is happy and healthy and like a kitten! Another one of my cats would get bumps from some kind of allergy.

The vet would just give him a cortisone shot and it would go away for awhile.

Since I switched them all to raw, his skin cleared up as well!

I can't thank you enough for the high quality of the food. I feel so good knowing they are getting the right nutrition and a fresh high quality product.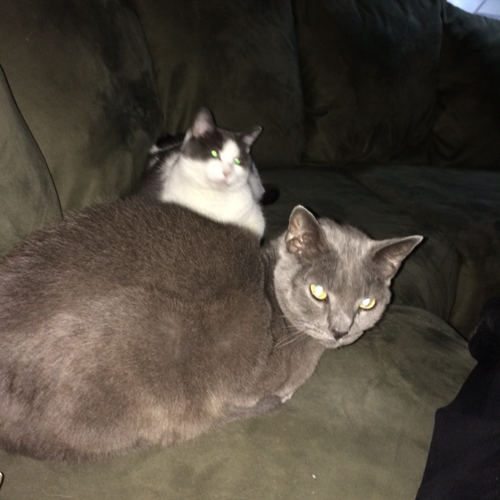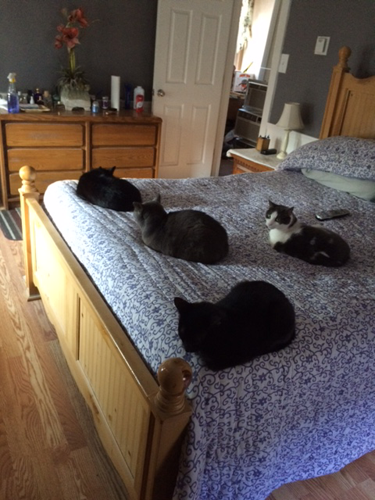 The best protein source for your pet
By debbi on October 11, 2015
I started purchasing Hare Today Gone Tomorrow meats about 9 years ago and find that they are an honest and extremely consistent company.

Tracy and her family put lots of love and good energy in their high-quality food for my dogs.