Happy Customer Testimonials
Below are testimonials sent in to us from our satisfied customers. Please submit your testimonial with a picture of your best friend(s) and we'll place it up here.
You will earn a one-time reward of 100 points that will be added to your account when the picture/testimonial is placed on the website.
Once you are logged in please go to your account page to submit a testimonial.
We thought we'd run out of options... we hadn't tried the best
By alex on September 1, 2015
18 months ago, our black cat Torgo was underweight, taking high doses of steroids, and constantly had an upset stomach. We had tried every dry and canned prescription food we could find from our vet and the internet, but nothing helped his irritable bowel.

We switched to raw food from Hare Today. Torgo took to it immediately; within a month his digestion was much improved, and within three months we were able to completely stop the steroids.
Now, after 18 months with products from Hare Today,Torgo is healthy, happy, has a very shiny coat -and he may even be getting a little fat!

None of this could have happened without Hare Today. I know that whether I order ground or whole prey I will receive high quality bio-appropriate raw food, carefully wrapped and shipped right to my door, and that both Torgo and Fingal will go crazy over it.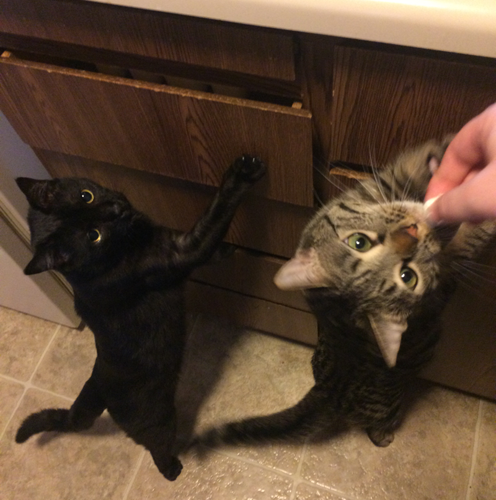 Great quality and great prices
By DORIS on September 1, 2015
I love Hare-Today for their great quality and freshness of meats.

My cats just love all the different variety of meats I can feed them without having to worry about quality issues or the humane treatment of the animals which is very important to me. I know that the animals have to be killed , but the how is important to me and Hare- Today does it with co2 so it's fast and painless and this is what makes me more comfortable about feeding raw.

I have received several shipments already and always was the food perfectly frozen and fresh.

I trust this company and will be a customer for as long as I have cats.
Thank you Tracy for doing such a great job, I love your Products.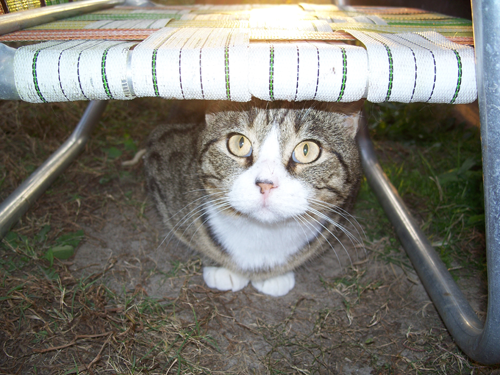 Dawn
By Dawn on August 22, 2015
I wanted to start my new sphynx baby off with a good healthy start in life. I researched feeding raw and was overwhelmed.

How do I get the right balance? Where do I get my meat? How much do I feed, etc, etc.
I do not enjoy handling raw meat..i have to be honest, so that was another hurdle for me. After MUCH research (and believe me, I almost gave up!) I came upon Hare Today and I knew there was hope.

The packaging was perfect for someone like me.. I didn't even have to touch the meat ( I use boneless ground)..just squeeze out of the plastic tubes and mix and portion into jars for feeding.

My food has always arrived frozen and is always top quality. I know that when I order from Hare Today, I am getting the best quality at the best prices! No worries ever! And shipping is so fast!!

Thank you to Tracy and Hare Today for making it super easy for me to give my sweet boy the healthiest, happiest life I could!!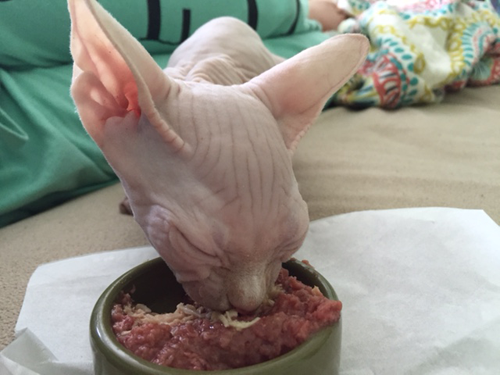 Chaplin
By Site on July 23, 2015
I have been feeding raw grinds to my 4 cats, after a serious health issue with one of my cats made me scrutinize everything that I was feeding previously.

I found Hare Today and thought that this is exactly what I was looking for... a good variety of quality meats, and a simple solution for making my own raw recipes.

I can't say enough good things about the change in my cats' health and energy level since feeding them Hare-today meats.

Their coats are so soft, and their body weights are perfect. One of my cats had bowel issues previously, but that resolved itself on the raw diet.

I love the fact that there are so many different products to try, especially when you have picky cats, there is bound to be something that they enjoy.

Thank you, Hare-today, for offering these quality meats!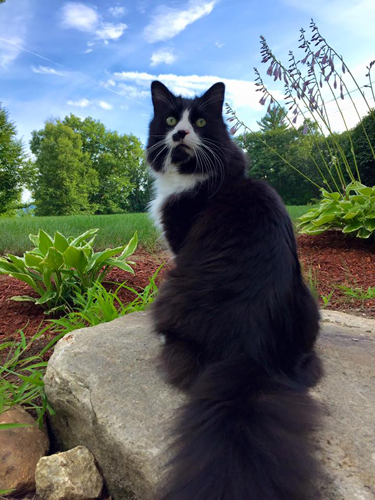 Diva with Quail
By Site on July 23, 2015
This is DivaRae, a female Siamese mix adopted from Animal Control. She was born in Anchorage, AK, December 7, 1994. In July 2005, my vet at the time (strictly traditional medicine) diagnosed her with renal failure, put her on Science DietKD and told me she had 6 months to live. I took her to a new vet for a second opinion, one who was board certified in NUTRITION, TCM, chiropractic, and acupuncture.

We transitioned Diva to raw food, beginning with rabbit from Hare Today, Gone Tomorrow. She took to it immediately. Her BUN, creatnine and phosphorus levels all normalized within a year.

Diva lived to be 20 years old. I lost her to complications from a fused spine and bladder cancer, NOT to renal failure.

Diva pictured channeling her inner carnivore with a whole dressed quail.



If a dog's prayers were answered,

bones would rain from the sky.

- Turkish proverb