This content is archived from the Feline Nutrition Foundation
Considering a Hybrid Cat?
Updated: Monday, February 25, 2019 01:57 PM
Published: Saturday, February 06, 2016 04:34 PM
Written by Carole Baskin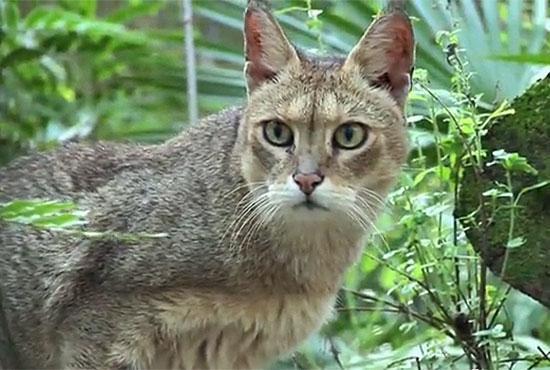 Considering a hybrid cat? Think again, if you love cats. Allowing the private possession of exotic cat hybrids is like strapping a nuclear warhead to the feral cat problem. I've had more than 30 years' experience with wild cats and am the founder and CEO of Big Cat Rescue, the world's largest accredited sanctuary that is dedicated entirely to exotic cats. We rescue and provide a permanent home to non-domestic cats, and almost never even consider rescuing hybrid cats because that problem is too vast.
We are seeing an alarming escalation in the number of hybrid cats who are being abandoned by their owners. While we track the number of wildcat species who are abandoned each year, we have never accurately tracked the number of hybrids in peril because those numbers have been too huge. This is a serious and growing problem in America for a number of reasons.
Current laws, where they exist, are impossible to enforce because they often include language that states what percentage of wild blood is allowed, or what generation of breeding from the wild is allowed, or some other vagary that depends on the honesty of the person selling a cat that is derived from great misery to the animals. It is actually much easier to breed Servals, Leopard Cats, Jungle Cats and other truly wild species of cat than hybrids, so these animals have been sold and misrepresented as hybrids to evade prohibitions on wildcat ownership. Over the years I have been asked by law enforcement on several occasions to identify cats that were thusly mislabeled. The only way to enforce a ban on exotic cats and hybrids is to include language that includes all lookalike crosses. By the 4th generation away from a wild parent, the vast majority of cats lose that wild "look." If it looks wild, it probably is.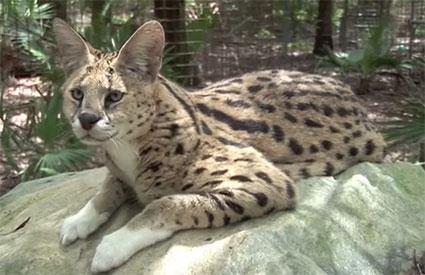 Animal Control and local Humane Societies know that hybrid cats almost never work out as pets. The liability is just too great, so in most cases they are euthanized with no attempt to adopt them out. When I end up in the field, rescuing some terrorized family from a hybrid cat, I know that I either have to build it a cage or it will be killed. Because of that, I've had a number of hybrid cats and can attest to the fact that:
Hybrids suffer from genetic defects that usually require surgery and special diets because they cannot properly digest their food. The most common ailment that I have seen is inflammatory bowel disease and projectile diarrhea. Breeders market these cats as being like having a tiger on your couch that will eat "regular" cat food and use the litter box. What they get is a cat who really needs a raw meat diet to avoid spraying diarrhea all over the house.
Hybrids bite. Even in play, even if they love you, they bite and I have scars all over my hands from them. Hybrids are far too rough to live with domestic cats and dogs and are certainly not safe to have around children or the elderly.
Hybrids spray. Their wildcat parents would have been hard wired to mark many square miles of territory, and this is actually the number one reason I hear from people trying to get rid of their hybrids. Male or female, neutered or not, hybrids spray copious amounts of acidic, foul smelling urine all over everything, and everyone, that they want to mark as theirs.
Hybrids are notorious for loud howling throughout the night. Neither their wild parent, nor their domestic parent is known for this, but it seems to be ubiquitous among hybrids. This sound is chilling and very loud and I've never found anything that will curb it or even limit it to normal human waking hours.
There are no rabies vaccines that are approved for use in wild cats, nor their hybrid offspring. Exotic cats will often die from being vaccinated with traditional modified live virus vaccines like those used on domestic cats. We use a killed virus vaccine on our wildcat species and on our hybrids, but there is no way to know if it is effective on either.
The menace to native wildlife, as stated at the beginning, is probably the most pressing reason to ban the private possession of hybrid cats. If a person asks what will happen to their hybrid cat if they turn them in to Animal Control or a local Humane Society, they will learn that there is no hope of the animal being adopted. This results in people abandoning their hybrid cats to the wild.
Hybrid cats are much better hunters, due to their recently wild genes, and thus can do much more damage to the ecosystem than feral cats alone. Add to that the likelihood of breeding with the feral cat population and you end up with much larger cats, capable of killing bigger and a wider array of native wildlife, including amphibious species because wild cats will readily go in the water after prey.
Introducing wild cat traits into the feral cat population also imbues them with the wild cats' enhanced ability to evade humans, avoid traps, cross rivers and travel much farther distances, which can spread the devastation into pristine areas that do not currently have feral cat populations. Because hybrid cats are susceptible to all of the same domestic cat diseases (and now we are learning that they are contracting domestic dog diseases, including canine distemper and parvo and parasites and diseases that were previously carried primarily by raccoons) hybrid cats can spread these diseases into the wild populations as well.
Additional Reading
These hybrid cats not only compete with other natural predators but may even cross breed with bobcats and eventually cougars over time, thus causing even more damage to existing native species.
There are so many reasons why private ownership of exotic cats and their hybrids should be banned, and yet only one reason to allow it; ie: ill-gotten gain.
Carole Baskin is founder and CEO ofBig Cat Rescue, the world's largest accredited rescue facility for exotic cats. She and her family volunteer for Big Cat Rescue as unpaid staff and have 100 plus volunteers and 13 interns from around the world. She has run this Tampa, Florida based non-profit since 1992. Be sure to visit theBig Cat Rescue Channelon YouTube.