This content is archived from the Feline Nutrition Foundation
Eight Effective Bribes for the Kibble Addict
Updated: Tuesday, May 28, 2019 03:51 PM
Published: Sunday, February 04, 2018 10:01 AM
Written by Elisa Katz, DVM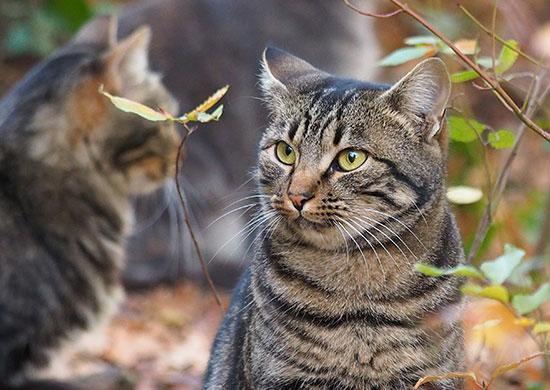 Cats are peculiar and wonderful creatures, but if they are raised with dry food only they may not recognize other forms as being food. Their eating habits get set early in life and they can be a challenge to change. But, it is doable. Your cat will benefit enormously from ditching the kibble, so it is worth making the change.
Due to heavy commercialization and convenience, dry cat food is abundant. People are used to feeding kibble. It's so easy! Manufacturers are also adept at making these inappropriate products enticing to cats, primarily by coating it with digests that smell good to kitty. Without this enticement, your cat would show little interest.
But, two can play that game. If you have a hard-core kibble addict, you can change their ways. You also can use aroma to entice kitty to try the more appropriate canned or raw cat food. You may need to try a few different techniques until you hit upon the one that works for your cat. Be persistent. Don't give up.
The following bribes can help you transition your dry food addicted cat to a canned, raw or fresh diet:
1. Add some juice from water-packed canned fish. Salmon, tuna, mackerel or sardines will all work. These are smelly and most cats love fish. Just pour a little over the canned or raw cat food meal.
2. Chopped sardines. Most cats love sardines – and they are good for kitty, too. Add some as a topping or mixed in.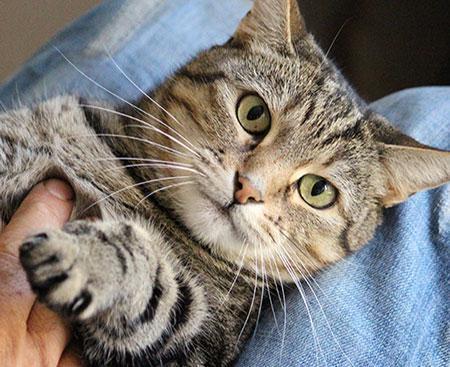 3. Try a product calledFortiflora. This is a probiotic for cats, but that's not what we're using it for. This probiotic is in a base called a digest that is the same sort of product that is sprayed on kibble to get cats to eat it. Sprinkle it on the new food.
4. Bone broth. Many cats love it. You can buy it canned – get the no-salt version – or make it at home. Add a little to the new food.
5. Freeze-dried raw cat food. These have a texture similar to dry food and may help in transitioning your cat if fed dry. Add some as a topping to a wet-food meal. There are many brands available, including Vital Essentials and Stella & Chewy's.
6. Dashi granules. Sprinkle just a tiny pinch of these Japanese fish soup stock granules on the food. Dashi is made from bonito fish and is used as a base in many soups and dishes, including Japanese miso soup. It is highly enticing to cats. Use sparingly though as it is also high in salt.
7. Dried fish flakes. Shaved bonito flakes are freeze-dried fish flakes that have a strong appeal to cats. Sprinkle on the food as a topping. Keep these flakes in the refrigerator as your cat will likely try to steal the entire package if she can get to it!
8. Dry food. Yes, the same dry food you are trying to get your cat off of. Cut up or crush just a few pieces as a topping. This isn't the best choice as we recommend getting rid of all the dry food in the house, but it works for some in getting kitty to try raw cat food.
If you are trying to introduce kitty to raw cat food, keep in mind that it must be fed separate from any dry, processed food as it is digested very differently. You can feed dry and canned food in the same meal, but keep the raw meat as a separate meal from a kibble meal.
Fasting your cat for 24 to no more than 36 hours can help make your cat hungry enough to eat what you put in front of him or her. Please do not intentionally fast your cat for more than 36 hours as they can develop liver problems if they do not eat regularly, especially if your cat is overweight. Diabetic cats should never be intentionally fasted.
Cats are good learners, especially when it comes to food. So, just be patient and persistent when making this transition. Cats who start out only eating kibble can be transitioned to a canned diet first, then to a raw cat food diet, if that works out best for you. It is always worth offering raw meals in the beginning. Your cat may surprise you and take to it without hesitation.
Dr. Elisa Katz, DVM, is a graduate of Ohio State University and is the owner of Natural Pet Animal Hospital in Bourbonnais, Illinois. She practices holistic and integrative medicine focusing on proper diet and nutrition. Dr. Katz shares her home with four kitties and one dog.
The Feline Nutrition Foundation, a 501(c)(3) non profit organization, is a participant in the Amazon Services LLC Associates Program, an affiliate advertising program designed to provide a means for sites to earn advertising fees by advertising and linking to amazon.com.
The Feline Nutrition Foundation also participates in the Amazon Smile program. To donate using Amazon Smile, simply enter Amazon using this link. Enter "Feline Nutrition Foundation" under Change Your Charity in Your Account or when prompted for the name of the organization you'd like to donate to when making your purchase. Amazon will donate 0.5% of the price of your eligible purchases to the Foundation. It doesn't cost anything extra.