This content is archived from the Feline Nutrition Foundation
The Cemetery Cats of Buenos Aires
Updated: Monday, February 25, 2019 01:53 PM
Published: Sunday, October 08, 2017 02:42 PM
Written by Guillermo Díaz. MV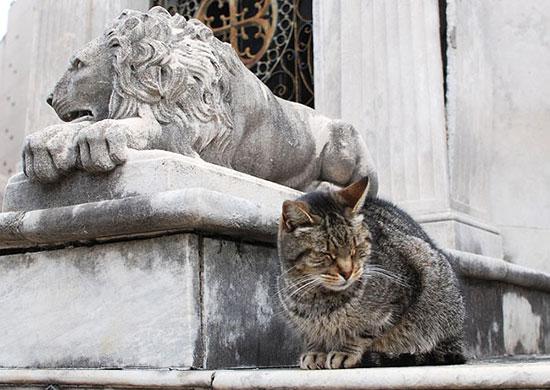 A while back, during our vacation in Buenos Aires, Argentina, my friends and I decided to visit one of its biggest attractions, the Recoleta Cemetery. It is known as one of the most beautiful cemeteries in the world. Nearly 5000 vaults span 14 acres with the graves of many notable Argentine figures including political leaders, several presidents, famous writers, Nobel Prize winners and notable researchers. Tourists can admire the famous tombs and their gorgeous architecture. It was built in 1822 as the first public cemetery in the city.
While we were visiting its avenues, walking along the magnificent old corridors, staring in awe at the ancient mausoleums, the beautiful vaults and the incredible statues, we were feeling a constant presence. We felt as if we were being observed the whole time. No, it wasn't because the cemetery was crowded. On the contrary, it was almost empty of visitors at that hour of the afternoon in the middle of the week. While we were walking and heading towards the location where the most famous people of the place reposed, I was completely certain that there was "something" over there.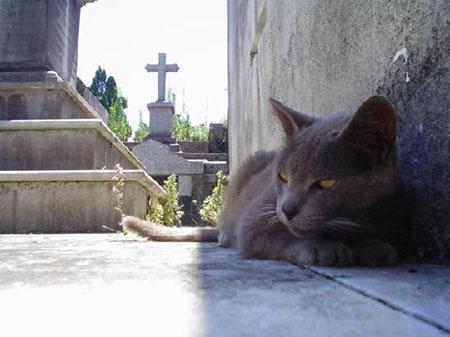 All of a sudden, amongst the burial stones and in a split second, we saw it, a fleeting shadow passing by…or a ghost maybe? No way! That could not be. At that moment we had to take a break in order to "reset" our brains, but this time we could hear a very tiny and smooth noise that came out from the moldy tomb behind us. It was a sound something like a groan, a moan, a very high pitched voice that came from that tomb. But there was something strange about that voice, it sounded familiar…and very familiar, by the way.
After recognizing that little voice, and smiling with relief, I called him. Suddenly, as if recognizing the friendly tone of my voice, he comes out of his drowsiness. He looks at us with a dreamy face, stretches his legs, and squints his eyes so that the sunlight does not blind him, while he gives a long yawn.
It was a cat.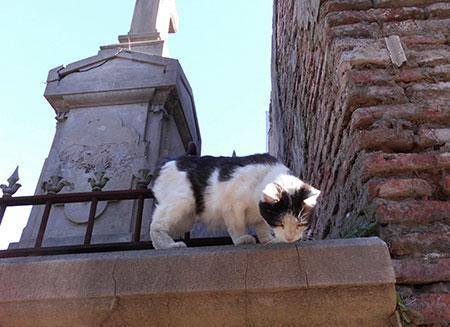 After that ritual he comes to us and offers his head for us to caress. We found out later on that this cemetery is home to dozens of cats, and they constitute the other great attraction of this place. The cats come in all sizes, colours and ages. They are all in good shape. All have a name, are vaccinated periodically and are dewormed. And the main thing, they are sterilized. There are several volunteer ladies who take turns bringing them food daily and providing them with fresh water.
The woman who supports and finances all of the cats' needs, including twice daily feedings and weekly veterinarian visits, wants to remain anonymous. She has been doing this for more than twenty years. All we could find out is that her husband is buried at the Recoleta and while visiting the cemetery, she fell in love with the cats. She has no children, so everything of value has been sold in order to provide food and vet care for the kitties.
There is one thing the cats have made crystal clear, though: the cemetery is their home. It belongs to them and they allow us humans to "invade" it on a daily basis. When you are there you can see the magical effect they have on people. All of a sudden, the sad and harsh faces light up smiling and the people are reaching out to the kittens to pet them. I think the cats' mission is to remind us humans of the wonder of life amid the pain and uncertainty of death.
Dr. Guillermo Díaz and family, including their four dogs (Leroy, Xica, Moza and Pepa) and six cats (Michalina, Tigger, Vladimir, Yellow, Mongo and Chirusa) moved to Buenos Aires, Argentina in July of 2017, where he expects to continue supporting different animal rescue groups, spread the benefits of raw food for cats and dogs and write articles about nutrition.