This content is archived from the Feline Nutrition Foundation
Read Me! Great Books About Cats
Updated: Monday, February 25, 2019 02:11 PM
Published: Monday, September 28, 2009 01:17 PM
Written by Margaret Gates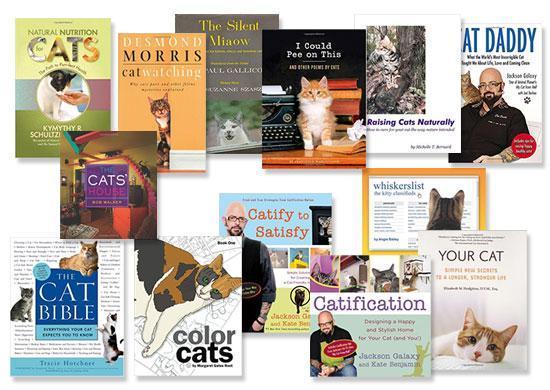 Who doesn't like cat books? Included here are just a few of our favorites. From serious and informative books on cat health, nutrition and behavior to fun and whimsical books everyone will love. Your Cat is a great book for first-time cat parents or anyone who wants to learn the basics of feline care. Jackson Galaxy's books can help you improve your cat's life – and your own – by making her environment kitty-friendly. Check out The Cat's House for a homeowner who went all out on making their home a cat's paradise. The Silent Miaow is a classic cat book and a charming look at felines. A must for every bookshelf. Color Cats Book One is a fun coloring book for adults and kids, done by Feline Nutrition founder Margaret Gates Root. Hint: make all the kitties look like your own. Whiskerlist is a funny and too-true look at what would happen if cats could advertise. Let us know if your favorite kitty book should be here!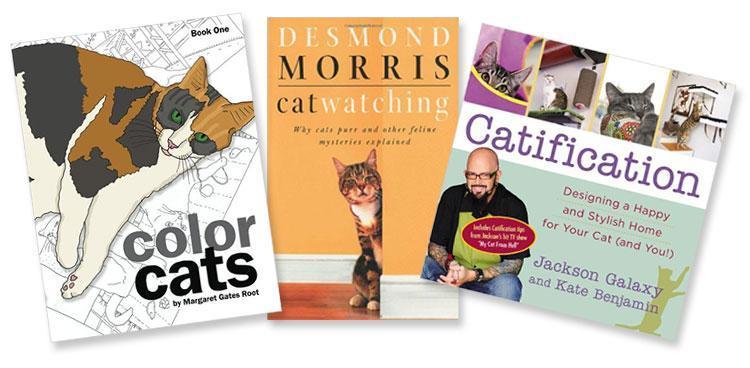 Color Cats Book One: Coloring Pages for AdultsBy Margaret Gates RootIf you love cats and coloring, this book is for you. Thirty-two fun drawings - by the Feline Nutrition founder herself - filled with cats as we all know and love them. You'll recognize your own beloved felines' antics in these pages. Break out the catnip, grab some colored pencils or markers, or both, and make these kitties your own. The drawings are presented as single-sided images in landscape view, with the binding at the top of the images. So, they're friendly for right or left-handed colorists. No binding to get in the way.CatwatchingBy Desmond MorrisGrowing up in the English countryside, Desmond Morris remembers having spent many hours lying in the grass watching the farm cats as they stalked their prey. As a zoologist, he has had in his care most members of the cat family, from tigers to jaguars. This book examines both cat behavior and the way in which humans and cats interact, and answers a vast array of questions on why cats do exactly what they do. Desmond Morris is the author of The Naked Ape, and also Dogwatching and Horsewatching.Catification: Designing a Happy and Stylish Home for Your Cat (and You!)By Jackson Galaxy and Kate BenjaminJackson Galaxy, the star of Animal Planet's My Cat from Hell, and Kate Benjamin, of the popular cat design website Hauspanther.com, walk readers through a step-by-step process of designing an attractive home that is also an optimal environment for cats. This gorgeously designed, full-color book includes more than twenty fun DIY projects, from kitty beds and litter boxes to catios (cat patios) that will be sure to make readers – and their cats – purr in approval.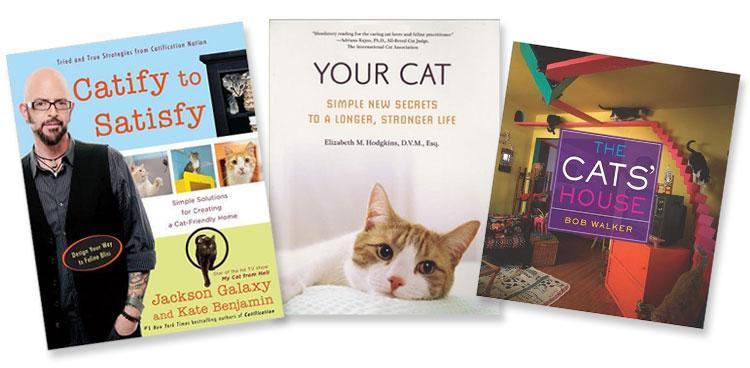 Catify to Satisfy: Simple Solutions for Creating a Cat-Friendly HomeBy Jackson Galaxy and Kate BenjaminJackson Galaxy, star of Animal Planet's hit show My Cat from Hell, and Kate Benjamin, cat design wizard, show cat guardians everywhere how to use home design tricks to address everyday cat care issues. Does your feline friend like to pee everywhere but in his or her litter box? Does your kitty have a thing for your furniture that has left your beloved couch in tatters? Catify to Satisfy will show you how simple DIY design projects and hacks can help bring harmony back into your home.Your Cat: Simple New Secrets to a Longer, Stronger LifeBy Elizabeth M. Hodgkins, DVMDedicated veterinarian Elizabeth Hodgkins, DVM, raises the alarm regarding the serious flaws in the commercial diets we feed our cats and the nutritional diseases that result. She also explains everything cat owners need to know including rearing kittens, the adult cat's middle years, and how to care for the geriatric cat. The very latest treatment options for cat diseases are explained, and sections on litter box problems; parasites; obesity; feline diabetes; how to read a pet food label; and many more important issues are included. From the novice to the experienced owner, this is a great resource for all cat enthusiasts.The Cats' HouseBy Bob WalkerThe Cats' House is a tour of the ultimate cat-friendly home. It tells how a simple plan to build a room divider transformed a typical home into a playful feline jungle gym: 110 feet of brightly colored aerial walkways, spiral staircases, floor to ceiling scratching posts and creative peepholes. Colorfully illustrated, it is an inspiration for those that dream of making their home more cat-friendly. Now, where's that hammer…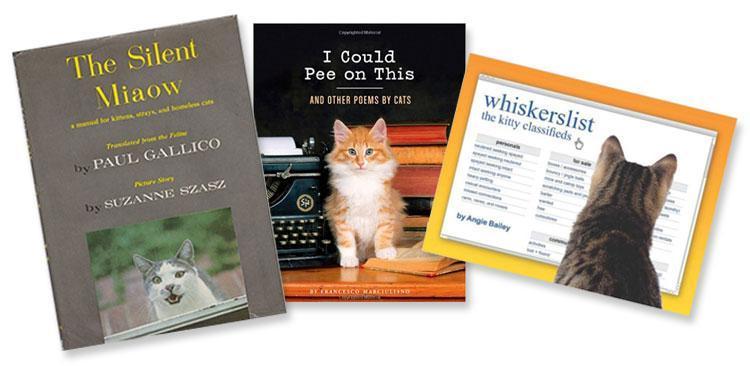 The Silent Miaow, A Manual for Kittens, Strays and Homeless CatsBy Paul GallicoThis book belongs on every cat lover's bookshelf. It is a wonderful book by Paul Gallico (Thomasina, The Snow Goose) published in 1964. It is a manual for cats, purportedly typed by a precocious cat, and translated from the feline. It is utterly charming! Paul Gallico shows his keen observance of and love for cats throughout. It is out of print, but good used copies are available. Be sure to get the edition that has photographs by Gallico's wife, Suzanne Szasz. A good book for all ages; I first read it at 6 years old, and return to it every few years.I Could Pee on This: And Other Poems by CatsBy Francesco MarciulianoCat lovers will laugh out loud at the quirkiness of their feline friends with these insightful and curious poems from the singular minds of housecats. In this hilarious book of tongue-in-cheek poetry, the author of the internationally syndicated comic strip Sally Forth helps cats unlock their creative potential and explain their odd behavior to ignorant humans. With titles like "Who Is That on Your Lap?," "This Is My Chair," "Kneel Before Me," "Nudge," and "Some of My Best Friends Are Dogs," the poems collected in I Could Pee on This perfectly capture the inner workings of the cat psyche.whiskerslist: the kitty classifiedsBy Angie BaileyThis clever parody combines two of the internet's hottest sensations--cats and craigslist. With 160 hilarious classified ads written for cats, by cats, whiskerslist reveals the inner lives of our favorite furry friends like never before. With categories ranging from "Personals" and "Gigs" to "Lost & Found" and "Help Wanted," the varied posts in this entertaining cat community provide an imaginative and entertaining look into what cats are really up to when left alone.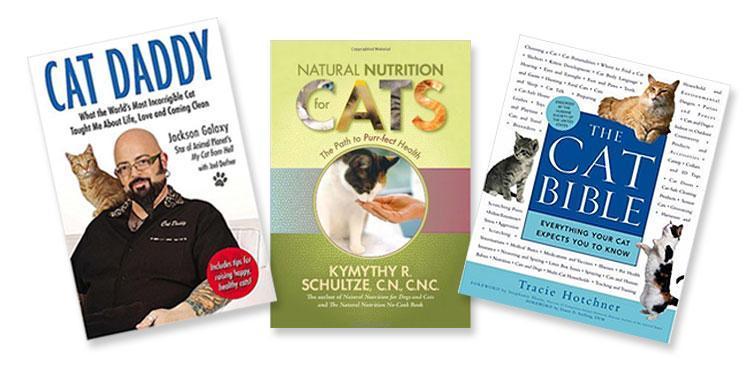 Cat Daddy: What the World's Most Incorrigible Cat Taught Me About Life, Love, and Coming CleanBy Jackson GalaxyIn this book, Galaxy tells the poignant story of his thirteen-year relationship with a petite gray-and-white short-haired cat named Benny, and gives singular advice for living with, caring for, and loving the feline in your home. An inspiring account of two broken beings who fixed each other, Cat Daddy is laced throughout with Galaxy's amazing "Cat Mojo" advice for understanding what cats need most from us humans in order to live happier, healthier lives.Natural Nutrition for Cats, The Path to Purr-fect HealthBy Kymythy R. Schultze, C.N., C.N.C.Kymythy's popular species-appropriate diet for cats has already improved the lives of thousands of feline friends and is endorsed by veterinarians worldwide. A comprehensive yet easy-to-understand work, Kymythy exposes the pitfalls of the pet food industry and shares her extensive knowledge of proper nutrition so that your cat can live a long, healthy, and happy life. She is a Clinical Nutritionist (C.N.) and a Certified Nutritional Consultant (C.N.C.).The Cat Bible, Everything Your Cat Expects You to KnowBy Tracie HotchnerFacts about every aspect of caring for and sharing your life with a cat; ranging from proper nutrition and strange behavior, to medical care and multi-cat households. Tracie tackles controversial subjects such as the truth about commercial dry pet foods and their danger. She offers straightforward solutions to the problems that cause people to give up their cats, many of which are avoidable, including litter box avoidance, scratching furniture and physical ailments.The Feline Nutrition Foundation, a 501(c)(3) non profit organization, is a participant in the Amazon Services LLC Associates Program, an affiliate advertising program designed to provide a means for sites to earn advertising fees by advertising and linking to amazon.com.The Feline Nutrition Foundation also participates in the Amazon Smile program. When use our link while shopping, Amazon will donate 0.5% of the price of your eligible AmazonSmile purchases to the Feline Nutrition Foundation. Donate for free!