This content is archived from the Feline Nutrition Foundation
Saving Alistair: How Lyn Thomson Helped Stop IBD 11,000 Miles Away
Updated: Monday, February 25, 2019 01:59 PM
Published: Saturday, July 20, 2013 01:31 PM
Written by Lyn Thomson, BVSc DipHom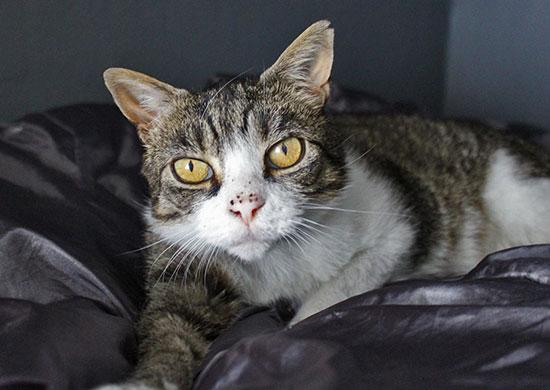 Late in 2011 a handsome tabby and white cat, about nine years old, was taken to a vet's in the north of England as a stray. Unclaimed despite his huge, luminous eyes and charming manners, he was named Alistair and admitted to Freshfields Animal Rescue. He was in good condition except for a bit of diarrhoea, no doubt the result of scavenging for food.
The diarrhoea, though, did not clear up. If anything, it got steadily worse. Vets tried everything from faecal samples to antibiotics and steroids, all to no effect. Since there were no positive results from tests done, his problem was labelled idiopathic IBS and a series of veterinary diets were recommended. But, still there was no improvement. At the end of 2012 he was pronounced incurable. Even worse, he just sat in his pen all day and showed little interest in life. His only pastime was visiting his litter tray. A lot.
I was one of the cattery staff who made sure he got the latest designated food. Not having a litter tray, one of my pastimes, perhaps even a minor addiction, is the internet. At its best it is a glorious pick and mix self-service cornucopia of free expertise, and it could reasonably be argued that Alistair's journey towards healing started when a friend invited me to join her on Twitter. She never tweeted again, but the incomparable Sockington became the source of many hours' entertainment. When Sockington's household was joined by Sockelganger, a kitten rescued by Robin Olson, Robin's Covered in Cat Hair blog became compulsive reading, chronicling experiences of animal rescue that both paralleled and contrasted with my own world. An enthusiastic proponent of raw food for cats, her article "What Bob Dole Taught Me About Raw Food" introduced the Feline Nutrition website; fascinated by the concept, I unknowingly sealed Alistair's fate by bookmarking it.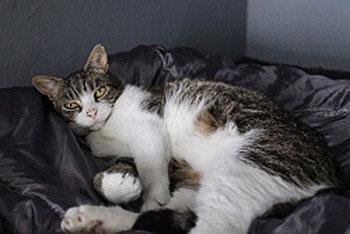 By January 2013, Alistair's prospects were bleak. After many attempts, the vets had given up. Searching desperately for answers, but barely knowing the questions, I rediscovered Dr Lyn Thomson's article on "Feline Inflammatory Bowel Disease: Nature and Treatment" at Feline Nutrition. The idea that constant diarrhoea erodes the lining of the gut, making normal function impossible, was a light bulb moment. The cattery staff agreed to try the repair method outlined by Lyn as a last-ditch effort in the hope that it might help to some extent. We were wrong. It saved Alistair's life.
Over the next weeks, many nauseating hours were spent in butchers' shops and in the kitchen, simmering bones and disembowelling poultry following Lyn's recommendations. The commitment of the all-vegetarian cattery staff was tested to the limit both by the concoctions stored in the freezer and by the ever-increasing list of instructions on Alistair's pen. Although it started with a simple injunction: "ABSOLUTELY NO BISCUITS!" Alistair's mealtimes became culinary challenges. Thawing broths, choosing a variety of poultry, mixing in probiotics and sprinkling digestive enzymes. We knew from the well-thumbed printout of the IBD article that we were at the start of a long process.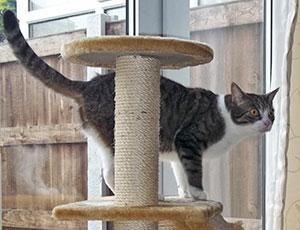 In fact, Alistair's behaviour started to change within a fortnight, pointing to improvements in his digestive system. The gassiness subsided and he became livelier and more outgoing. He started to use his tray only once a day rather than the usual six or more times. In time, one of our concerns was where the food was going, since his excellent appetite seemed to produce very little in the way of results. By March, there was a major triumph. He was producing very tiny, but well-formed stools. We were overjoyed. It was clear that the IBD treatment outlined by Lyn had allowed Alistair's colon to repair sufficiently to produce solids. Alistair was too busy playing and socialising to pay much attention.
Taking a deep breath, we decided to start the second stage and transition Alistair to a raw diet. This seemed like a huge step, particularly since raw food is still almost unknown in the UK. The Feline Nutrition site provided the information to help us check credentials, and we were able to find - on the internet, of course - a complete, balanced, well-produced frozen raw cat food. The prospect of transitioning, though, was worrying. How long would it take? Would Alistair be willing to make such a big change? Above all, would it set back the progress so far?
For his first "new" meal, Alistair was given a choice between freshly roasted chicken and raw food. He wolfed down the raw and left the chicken. Transition completed! An even more dramatic and seemingly miraculous development, though, happened within a couple of days. His stools became absolutely normal. No gradual change, no setbacks. After at least a year of continuous diarrhoea and three months of gut-repair diet, Alistair, amazingly, became normal overnight. He loves his new food and continues to eat every flavour enthusiastically.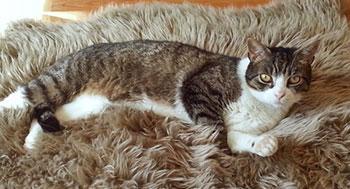 Three weeks ago another seemingly impossible thing happened. Alistair found his forever home. The adopters agreed to continue with the raw diet and have reported that, even with the change in circumstances, he is completely solid and insanely happy, following them around purring, demanding, and getting, huge amounts of attention and play. His new feline housemate also approves of him.
This happy ending was only possible because of the generosity of people who freely share their expertise. A specialist vet in New Zealand joined a multidisciplinary team of nutrition specialists in the USA, all at Feline Nutrition. Because of their contributions on the internet, they were able to save a cat in a rescue in England. On behalf of Alistair, and all his friends and admirers, heartfelt thanks to you all!
Penny Brown, who describes herself as a lifetime cat slave, works in the cattery at Freshfields Animal Rescue, an independent no-kill animal shelter in Liverpool, UK.