This content is archived from the Feline Nutrition Foundation
Cat Daddy Talks Cat Diet
Updated: Saturday, May 25, 2019 02:05 PM
Published: Saturday, August 16, 2014 08:42 PM
Written by Margaret Gates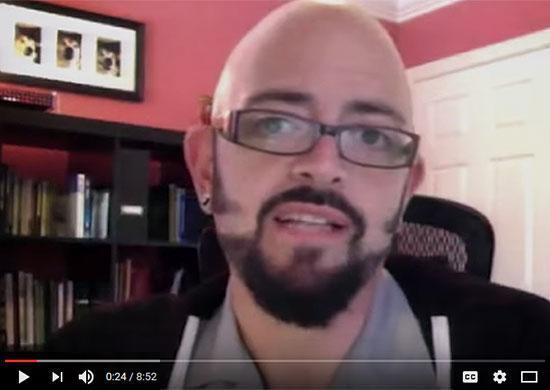 Every fan of felines has heard of Jackson Galaxy. He's spent more than twenty years helping people solve feline – and human – behavior problems, so people and their companion cats can live in harmony.
All of his experience getting into kitty minds resulted in his Animal Planet show "My Cat from Hell." It's helped people everywhere understand their cats and why they do what they do. We think it's terrific. Anything that helps cats stay in their homes and be happy is something we applaud. Feline Nutrition wants cats to be happy and healthy as well, but we focus on diet.
Jackson is a long-standing advocate of feeding cats bio-appropriate diets. He often recommends eliminating free-feeding and dry foods from a cat's regimen on his show. Jackson recently invited me to come on his internet "Cat Mojo Show" to talk about feline diet. We enjoyed the opportunity to reach the "My Cat from Hell" audience of feline-friendly folks, and introduce new people to the benefits of bio-appropriate feeding. We love getting to do our bit in the cause of kitty happiness!
We talked about how Feline Nutrition got its start from my "light bulb moment," realizing what cats, big and small, eat in nature. Pet parents are discovering raw food for cats. Veterinarians don't receive much training in nutrition, and often end up learning about bio-appropriate diets from their clients that feed raw cat food.
We discussed why dry foods are bad for cats – even the grain-free varieties – and the connection between diet and common diseases, such as diabetes and inflammatory bowel disease. I also list many of the positive changes people see in their cats when they switch them to raw food diets. The video features a look at the Feline Nutrition website and how to find out more about the right way to feed your obligate carnivore.
The interview was conducted via Skype. Take a look at the neat feature Jackson added to the video: the key interview questions appear on the left, and you can jump right to that part. Cool!
Many thanks to Jackson for giving Feline Nutrition the opportunity to talk about feline diets and reach out to more people and their cats. Check out his "Cat Mojo Show" and "Q&A Hangouts" on his website or his YouTube channel for even more great cat content! Here's to healthy and happy kitties!